Contact Us
Call
800-886-2629
or e-mail us for more information.
Follow Us
Join Our Newsletter
Enter E-mail Address:
Publishing and Marketing Specialist
Melanie L. Drake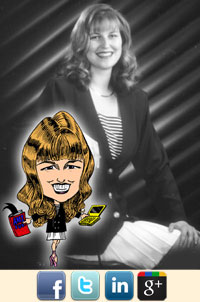 Melanie L. Drake focuses on the publishing and marketing sides of the AchieveMax® company. She has more than 20 years of experience in the fields of:
blog development
web design and marketing
graphic design
technical writing
journalism
public relations
Melanie graduated from the University of Michigan-Flint with a double major in Communications and English, with a minor in Spanish. Melanie also has a Master of Arts in English, specializing in professional writing (technical communication), from Eastern Michigan University.
During her career, she has served as editor of various publications, such as the Michigan Times and Kwasind (literary magazine). She is also the past Director of Publications of the Mid-Michigan Chapter of the American Society of Training and Development (ASTD). In addition, Melanie has received various awards for her web designs, and her web sites have been featured in magazines and television programs worldwide.
The Caricature of Melanie L. Drake
| | |
| --- | --- |
| | The AchieveMax® caricatures provide a starting point for others to see the creative side of the AchieveMax® team of speakers and consultants. In Melanie's caricature, you will notice that she's holding a book and a laptop computer to represent her publishing activities. Melanie is in charge of all publishing activities at AchieveMax® company. She's also wearing a pair of pointe ballet shoes to symbolize her artistic side. |
Articles by Melanie L. Drake
To read more about Melanie, make sure to read our newsletter, The Achiever and our blog.