Contact Us
Call
800-886-2629
or e-mail us for more information.
Follow Us
Join Our Newsletter
Enter E-mail Address:
The Achiever Newsletter
Meet WOW! - Walking the Talk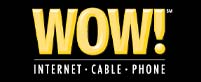 Once in a great, great while I have the unique privilege of spending time with an organization that I like to refer to as an "anomaly" (deviation from the normal or common order). Obviously, it doesn't happen very often, as there are very few businesses today that fit that description in a positive way. I was recently contracted to spend the day with the leadership team of WOW! Internet, Cable, and Phone. Yes, the name of the company is WOW!, and after spending time with them, I not only understand why but can't think of a more suitable moniker.
WOW! is one of the largest "MSO's" in the country and operates overbuild cable systems and directly competes with some of the largest incumbent providers giving customers the choice of more than one provider ... as contrasted to a monopoly system with which most of us have to contend. With corporate offices in Englewood , Colorado, WOW! expanded in 2001 by acquiring properties in Illinois, Michigan, and Ohio. Since that time it has experienced unparalleled growth in a very competitive environment! In 2004, it was rated the top cable provider in the country in JD Powers' annual industry-specific survey for customer service and satisfaction.
The secret of its growth and success is obvious. The fuel that drives WOW! is its culture—a culture that is characterized by respect, excitement, accountability, professionalism, trust, and a very obvious singular focus on what they describe as "delighting" their customers. I must admit, over the years, I've heard similar rhetoric from numerous companies across a wide variety of industries. I've heard the slogans, viewed the banners and read the mission and value statements. I've rarely seen it put into practice to any degree of success.
That certainly isn't true for those who so proudly display the WOW! logo on their hats, shirts, jackets, and vans. From the moment I entered their Michigan offices, I could sense a certain positive energy in the air. Observing their interactions throughout the day, it was quite obvious that they're enthusiastic and even passionate about their work, encouraged to participate in the business, proud of their accomplishments, eager to cultivate their company values, and dedicated to "delighting" their ever-growing number of customers! In fact, their friendly customer care representatives are available to answer questions 24 hours a day, 7 days a week via their toll free telephone number.
I couldn't help but notice that their core values are short and simple ... nothing out of the ordinary. However, what is extraordinary in this age of cynical business environments is the fact they believe, support, and live their values!
While extremely successful, they are far from complacent. Throughout the seminar, they were obviously eager to discuss new tips, tools, and strategies in their never-ending search for continuous improvement. The focus of this particular session was empowerment, and they were very open in identifying their current strengths as well as their opportunities for growth.
To illustrate the focus, dedication, and sense of humor so evident of this unique leadership team, I must share how our day came to a close. At the conclusion of the seminar, everyone received a page of song lyrics. The title of the song was "People on the Team," and it was to be sung to the tune of "Strangers in the Night." This, of course, is the famous Frank Sinatra song in which he utters that famous phrase: "Do-Be-Do-Be-Do." Human Resources Manager Sherry Zachary created the title of the day's program ... "Empowerment — 'Letting People Do-Be-Do-Be-Do.'" The leadership team not only sang the song to close the day but they recorded it on video to send on to their CEO in Colorado. There's a very good chance this version of the Sinatra classic will never reach the Top Ten but this very special group of people could care less. They learned, they laughed, they sang, they put a smile on my face, and all I could say at the end of a very enjoyable day was — WOW!
Publication Date: Winter 2005
Harry K. Jones is a motivational speaker and consultant for AchieveMax®, Inc., a company of professional speakers who provide custom-designed seminars, keynote presentations, and consulting services.
Harry's top requested topics include change management, customer service, creativity, employee retention, goal setting, leadership, stress management, teamwork, and time management.
For more information on Harry's presentations, please call 800-886-2629 or fill out our contact form.





Empowerment Training or Keynote Presentation Information
Empowerment Articles and Book Reviews