Harry K. Jones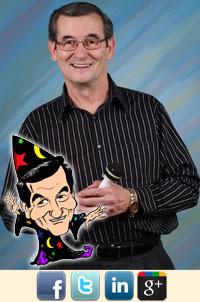 A straight-forward, "tell-it-like-it-is" approach to current issues coupled with more than 35 years of management and leadership experience makes Harry K. Jones a dynamic and much sought-after motivational speaker. During his career, he has worked in and consulted for a number of industries, including education, financial, health care, government, manufacturing, radio, real estate, retail, television, transportation, and sales.
As a professional speaker, Harry has appeared all over North America addressing topics such as:
He has consulted, trained and authored corporate training programs for major corporations and organizations such as Amoco, AT&T, Blue Cross, Center for Banking Education, Credit Union Leagues, Chrysler, Dow, ESPN, Genisys Credit Union, General Motors, Nationwide Insurance, Public Works Canada, ResCare, TRW, and the Tampa Bay Buccaneers. He has worked as a facilitator or instructor on the campuses of Central Michigan University, Grand Valley State University, Indiana University, Michigan State University, Ohio State University, Notre Dame, Temple University, Texas Tech University, University of Michigan, and UCLA.

As a keynote speaker and seminar speaker, Harry has been aptly described as "motivational," "keenly insightful," "down-to-earth" and "profoundly humorous." His high level of enthusiasm and openness to share his personal experiences combine to create a productive rapport with his audience. As one of his clients so aptly said, "Harry may not tell you what you want to hear, but he'll certainly tell you what you need to hear!" As a result, program participants emerge with a strong desire to take action on current challenges.
Client Comments about Harry K. Jones
Melody Harshbarger, District 10 American Advertising Federation Conference Chair, said:
"Harry K. Jones kept over 100 marketing and media professionals spellbound for over an hour and when it was over, we didn't want him to stop. He used his humor to put all of us at ease and had the perfect props to support his strong message."
Tina Thornton, Coordinating Producer for ESPN, said:
"Harry did a great job of tailoring his message to our audience. He used numerous time management examples and bridged his content to effectively fit our business. Not only did they find the seminar interesting and exciting, they began using the tools and techniques the day following the seminar to become more efficient."
Marcia Wittig, Director of Workforce Development for Goodwill Industries, said:
"Amazingly, Harry distilled my entire Masters Program (Organizational Management) in his three-hour presentation at our Employment and Training Association Spring Management Conference. The value that he brought to our association is immeasurable!"
Dianne Addington, President/CEO for T&C Federal Credit Union, said:
"Harry has moderated three management retreats for T&C Federal Credit Union. This year, once again, was excellent. We came away with an action plan that we could immediately begin. Harry's vast experience working with many different types of organizations added tremendous value. Harry was very straightforward with our team in areas that we performed well, but had suggestions as to how we could be even better. We all walked away knowing the return on our investment will be outstanding."
Tom Duemling, Secretary/Treasurer for the Michigan Parking Association, said:
"Not only did Harry deliver a compelling message to our association members, he also helped energize our board, and we gained even more volunteers for our association events. I recommend Harry K. Jones to other associations. They provide custom-designed presentations and customer-friendly service that helped 'Achieve the Maximum® ' for the Michigan Parking Association."
Please read more testimonials here.
The Caricature of Harry K. Jones
| | |
| --- | --- |
| | The AchieveMax® caricatures provide a starting point for others to see the creative side of the AchieveMax® team of speakers and consultants. Harry's caricature was inspired by the "Ah-hah" list that was included in our seminar materials. The "Ah-hah" list was a place for seminar participants to write down their innovative thoughts and ideas as they progressed through the seminar. Harry is our very own "Wizard of Ahs." |
Articles and Book Reviews
Harry K. Jones has written more than 500 business articles on change, customer service, leadership, stress management, time management, teamwork, and more for our blog.
He has also written more than 200 book reviews.
Schedule Harry K. Jones for Your Next Event
Do you want Harry to speak at your next event? Then contact us today!
Please call us within the U.S. at 800-886-2MAX or send us an e-mail at .