Contact Us
Call
800-886-2629
or e-mail us for more information.
Follow Us
Join Our Newsletter
Enter E-mail Address:
The Achiever Newsletter
Canadian Business Leaders Reach Out to AchieveMax® Professional Speakers
From Atlantic to Pacific, gosh the inquiries are terrific! Yes, it's true. Aggressive Canadian business leaders from coast to coast are contacting the AchieveMax® web site and Corporate Office for more information on what it takes to become an Choice Employer.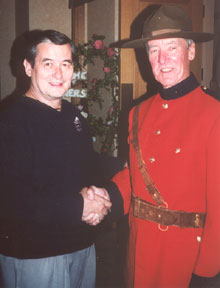 Molly Maid, boasting a 23-year track record of success in Canada, is very proud of having the highest brand awareness in the industry. Refusing to rest on their laurels, they invited professional speaker Harry K. Jones to join them at their Annual Convention in beautiful Vancouver, British Columbia in early June. They were determined to begin their journey to become a Choice Employer. Their long weekend on the Pacific coast focused on tips, tools, techniques and bench marking this rapidly-growing phenomenon.
Later this month, Harry will be one of many noted featured speakers and round table participants in the two-day Talent Retention Strategies Conference hosted by the Strategy Institute of Canada. Attendees of this major event at the Metro Toronto Convention Centre will master the art of creating loyal employees, reducing turnover and increasing productivity.
Word of our efforts obviously travel fast on the Internet as we have received a growing number of Canadian requests for calendar dates and further information on this high-impact, low-cost approach to reducing turn-over and tapping the potential of your current workforce to increase productivity and profitability.
For further information on how you can join the rapidly-increasing number of organizations pursuing Choice Employer status, call us at 800-886-2MAX or visit the Choice Employer description on our website. In Canada, call us at 810-695-6900.
Publication Date: Summer 2001
Harry K. Jones is a motivational speaker and consultant for AchieveMax®, Inc., a company of professional speakers who provide custom-designed seminars, keynote presentations, and consulting services.
Harry's top requested topics include change management, customer service, creativity, employee retention, goal setting, leadership, stress management, teamwork, and time management.
For more information on Harry's presentations, please call 800-886-2629 or fill out our contact form.