Contact Us
Call
800-886-2629
or e-mail us for more information.
Follow Us
Join Our Newsletter
Enter E-mail Address:
The Achiever Newsletter
Spotlight on Harry K. Jones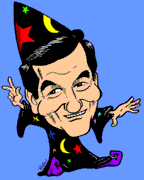 What is Harry K. Jones like when he isn't traveling the world giving keynote presentations, presenting at seminars, training, facilitating, or consulting? Here are just a few fun facts about Harry when he's not in the spotlight.
Harry's hobbies and pasttimes include racquetball, waterskiing and vaulting breakers on his Yamaha Wave Runner III. He is also the longtime voice of girls and boys basketball at his alma mater, Haslett High School.
Harry is the proud father of three children and nine grandchildren. His daughters, Tammy and Jamie, are both married career-women, and his son, Chad, recently finished a 4-year tour with the U.S. Marine Corps. As a Lance Corporal, Chad served in San Diego, North Carolina, Okinawa, and Diego Garcia in the middle of the Indian Ocean. He recently returned home to Michigan with his new wife, Heather. Chad is currently an apprentice tradesman with aspirations of being a General Contractor.
Harry makes his home on the shores of Lake Lansing in Haslett, Michiganójust minutes from the campus of one of our clients, Michigan State University.
Publication Date: Spring 1995
Updated 2010