Contact Us
Call
800-886-2629
or e-mail us for more information.
Follow Us
Join Our Newsletter
Enter E-mail Address:
The Achiever Newsletter
Spotlight on Melanie L. Drake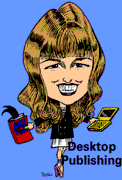 If you've ever attended an AchieveMax® seminar or keynote presentation, you've seen Melanie's work, although you probably haven't met her. Melanie is in charge of producing all AchieveMax® seminar booklets, presentations, marketing materials, the website, and the blog.
Melanie says she just "fell into desktop publishing and web design. I was editor of both the student newspaper and literary magazine my senior year of college, and as it turned out, the people who did layout weren't very reliable. I surprised myself by producing most of the literary magazine on my own, and then I was asked to produce the newspaper for a semester after I graduated."
She graduated from the University of Michigan-Flint with a double major in Communications and English, with a minor in Spanish. Melanie also has a Master's of Arts in English, specializing in professional writing (technical communication), from Eastern Michigan University.
Publication Date: Winter 1995