Inspirational Speaker Shelley R. Riebel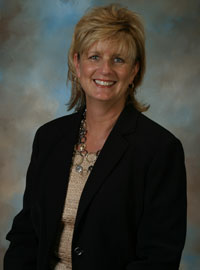 With more than 25 years of experience working in positions from management, customer service/sales, and training, Shelley Riebel teaches from experience. Her energy and enthusiasm makes Shelley a motivating and inspiring speaker.
Shelley makes presentations ranging from supervisory skills to sales to professional development topics. She helps businesses develop business plans, training plans and resolve internal conflict. Shelley is instrumental in developing sales cultures and helping to improve company morale, motivation and productivity.
Audiences describe Shelley's presentations as enthusiastic, creative, motivational and practical. She teaches skills that can be applied in today's market. She has personally experienced mergers, acquisitions and "right-sizing." Her high level of participatory facilitation and openness to share her personal experiences combine to generate rapport with participants. As a result, program participants leave with the necessary skills and a strong desire to take action on current challenges.
Shelley's goal is to create partnerships with clients in order to increase morale, motivation and productivity, by developing high-powered leaders and teams. She teaches practical skills helping employees manage their own resources and seek solutions for today's unprecedented competitive demands.
Some of Shelley's topics include:
Shelley Riebel is a strategic partner of the AchieveMax® company.
Schedule Shelley R. Riebel for Your Next Event
Do you want Shelley to speak at your next event? Then contact us today!
Please call us within the U.S. at 800-886-2MAX or send us an e-mail at .