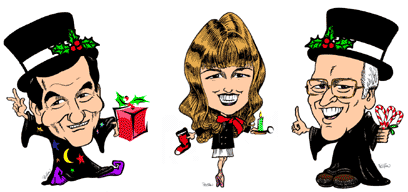 Educate, Enlighten, and Entertain
Your Staff with a Professional Speaker
for Your Holiday Banquet, Award Ceremony, Recognition Program, Holiday Party, or Christmas Party
For your holiday banquet, award ceremony, recognition program, holiday party, or Christmas party, AchieveMax® professional keynote speakers will provide humor, insight, and information to enhance your personal and business life in a very positive way!

If you'd like to learn more about the AchieveMax® professional keynote speakers please visit our pages on:
Recommended Keynote Presentations for Your Holiday Event
We recommend the following keynote presentations for your holiday season event:
Remember! Each holiday keynote presentation or seminar will be custom-designed to fit your organization's needs!
For more choices, please look at our full list of keynote presentations. You can also read about more choices in this blog article: Is Leadership on your Christmas List?
Please call us within the U.S. at 800-886-2MAX or send us an e-mail at .