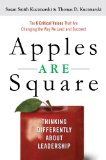 Apples Are Square: Thinking Differently About Leadership

by Dr. Susan Smith Kuczmarski and Thomas Kuczmarski
This is one of those publications that grab you at the cover. Come on, the title Apples Are Square tickles your intrigue just a bit now, doesn't it? And who doesn't want to think differently about leadership? If the book is as good as the title, the Kuczmarskis, the husband and wife team of business consultants, trainers and authors, have another winner on their hands.
The inspiration behind this attention-grabbing title comes from a professional football player, Christopher Zorich, who played for both the Chicago Bears and the Washington Redskins. He shares his memories of how his mother took rotten apples and literally reshaped them into something edible and appealing. The authors use that analogy to suggest that we, as a society, need to take bruised work environments and reshape them into dynamic, inclusive, and collaborative organizations.
The strategies involved to do so are derived from people other than those which seem to appear in every leadership book. The authors interviewed 25 leadership pioneers from many walks of life: Susan Anton (Broadway star and actress), Chris Zorich (NFL star), Craig Newmark (founder of Craigslist, the Internet classified ad service), Mary Ellen Weber (former NASA astronaut), Dean Kamen (inventor of the Segway scooter), Charles Lewis (founder of the Center for Public Integrity), and others from many different work settings―media, the arts, government, sports, education, and business.
Here's a snapshot of what you'll find to help you move toward a new definition of leadership at a time when it is obviously sorely needed:
"Peopleship"… cultivating multiple leaders in an organization by invoking six critical values which will strengthen individuals and connecting employees and managers in building strong relationships.
"7 Step Approach"… for creating a compassionate work culture.
For far too long, leaders have been operating with a "command, control and compete" mindset. Many organizations have proven that this strategy no longer works. We're seeing a totally different leader emerge as a collaborator rather than a controller. These successful leaders are "square apples" who are daring to reshape the workplace in unexpected ways. The authors share with you the secrets of how to become a "square apple" in your organization.
Examine today's business environment, and you'll quickly discover that leadership, or the lack thereof, is one of the most pressing issues facing organizations today. Reshaping a bad apple is not easy, but in the end you will hold in your hand the fruits of a more dynamic, inclusive, and collaborative organization.
(This book review was originally published in 2008 as one of the Top 10 Books – Edition 17.)
Harry K. Jones is a motivational speaker and consultant for AchieveMax®, Inc., a company of professional speakers who provide custom-designed seminars, keynote presentations, and consulting services. Harry's top requested topics include change management, customer service, creativity, employee retention, goal setting, leadership, stress management, teamwork, and time management. For more information on Harry's presentations, please call 800-886-2629 or fill out our contact form.