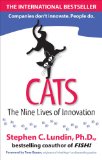 CATS: The Nine Lives of Innovation

by Stephen C. Lundin, Ph.D.
Another "mini-book" (169 pages) hits the book store shelves … this one from Stephen C. Lundin, author of the bestseller FISH! which has been published in 34 languages. The author is a writer and filmmaker with a background in business, management, and education.
Lundin unveils the next big trend in business—innovation as a tool of personal success. I can't think of a better time to focus on obtaining the many valuable benefits of such a powerful resource. Within these pages, readers will learn about innovation and how companies and people can innovate more. The author's belief is that innovation and creativity can be learned, and there are certain things that can be done to enhance creativity. Learn how to tap into your power of innovation and then unleash it in every member of your organization. You'll learn how to recognize and deal with the four basic challenges that must be overcome in order to enhance your innovation edge:
Doubts, Fears, and Distractions (fraidy cats never innovate).
Being Normal (stop being normal—make your own rules).
Failure (embrace it—it's the only way to learn).
Foster Creativity (don't be a control freak).
Lundin then describes the Nine Lives of Innovation, each of which is a step toward realizing your inner CAT and becoming a fully contributing member of an innovative organization.
Create an Innovation Friendly Environment.
Always Be Prepared.
Know That Innovation Isn't Normal.
Welcome Physical Provocation.
Enjoy Social Provocation.
Promote Intellectual Provocation.
Put Failure Into Perspective.
Fail Early and Fail Well.
Understand Natural Energy.
The author also demonstrates his own creativity by utilizing additional learning tools such as:
CAT Nip—an activity that provokes your thinking or tests your newfound CAT skills.
CAT Pause (paws, get it?)—A break in the action that creates a space for reflection.
CAT'S Eye View—A real life example used to illustrate a point.
CATS is full of simple yet profound information and anecdotes that can be used to spark the curiosity and creativity within every employee and, thus, inspire innovative approaches to ordinary situations.
(This book review was originally published in 2009 as one of the Top 10 Books – Edition 20.)
Harry K. Jones is a motivational speaker and consultant for AchieveMax®, Inc., a company of professional speakers who provide custom-designed seminars, keynote presentations, and consulting services. Harry's top requested topics include change management, customer service, creativity, employee retention, goal setting, leadership, stress management, teamwork, and time management. For more information on Harry's presentations, please call 800-886-2629 or fill out our contact form.