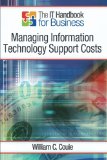 The IT Handbook for Business: Managing Information Technology Support Costs

by William C. Couie
I must admit, I'm pretty sure that I wouldn't have chosen this particular book if it hadn't been recommended to me. Those who know me are aware of the fact that it took me two years to remember what IT stood for prior to working regularly with those who have chosen it as a career.
However, I think someone sent my description to the author prior to his writing this 177-page handbook. I say that because it reads as though it were written for those of us who may admit an ignorance of technology. It's the author's intention to educate the less than technically knowledgeable on certain overlooked methods and IT support subjects and procedures.
This is a great handbook for small to medium businesses as the author educates readers on how to reduce or even eliminate a great deal of current expenditures. The author gives us an inside look at what goes on in today's Information Technology support industry. He shares information seldom available which guides readers to ask the right questions, recognize "red flags" that could later be costly, learn how to spot IT scams and unfair billing practices, how to interview an IT firm, and what a service invoice or quote should look like!
I personally appreciated the lack of techo babble as the author shared valuable information in a way which was easily understood by those of us who may lack extensive experience in this area.
The author, William Couie, has owned his own business for more than 15 years, has more than 20 years of IT field experience and more than 30 years of experience working in the IT industry with consultation, auditing, computers, networking and training. He speaks knowledgeably from his vast experience.
The handbook consists of 17 chapters which I've listed below to provide an idea of what you can expect to learn. I will tell you this: You'll gain valuable knowledge, increase your confidence on technological issues, make better decisions for your organization, and, of course, SAVE a great deal of money in the future!
Scan the chapter list to realize what a valuable asset this handbook can be for you and your organization.
Interviewing an IT Firm
Being Interviewed by an IT Firm
Technical Integrity
Three Important People
The Internet Acceptable Use Policy
Employee Training
Lowering IT Costs
Corporate User Security
Anatomy of a Quote
Anatomy of an Invoice
Service Call Resolution
Phone Support
How to Recognize Techno-babble
Scams and Unfair Billing Practices
Software Piracy
Transitioning Between Technical Firms
Certifications and Regulations
The IT Handbook for Business: Managing Information Technology Support Costs
is available from Amazon. The AchieveMax® company is an affiliate of Amazon.com.
Harry K. Jones is a motivational speaker and consultant for AchieveMax®, Inc., a company of professional speakers who provide custom-designed seminars, keynote presentations, and consulting services. Harry's top requested topics include change management, customer service, creativity, employee retention, goal setting, leadership, stress management, teamwork, and time management. For more information on Harry's presentations, please call 800-886-2629 or fill out our contact form.