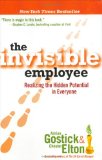 The Invisible Employee: Realizing the Hidden Potential in Everyone

by Adrian Gostick and Chester Elton
Here we find another of the "mini-books" (140 pages), which continue to inspire us via a business fable packed with hard-won wisdom. This one comes to us from the co-authors of a previous bestseller A Carrot a Day.
These authors know of what they speak as they both certainly "walk the talk." Adrian Gostick is the Managing Director of The Carrot Culture Group, a consulting and training division of the O.C. Tanner Company. Chester Elton is the Vice President of Performance Recognition at O. C. Tanner, the world's leading employee recognition firm. If you're interested in learning more about this subject, organization or the authors … be sure to visit www.carrots.com.
The authors, using a fable format, share a familiar message: praising employees is the "single business strategy" that meets "all your business objectives simultaneously." Praising employees generates commitment, which leads to high-level performance, which causes customer and investor loyalty. It's been around a long time. It's been proven to be true time and time again. Many don't believe this message and disregard it regularly. However, many in this latter group would have to admit that they have yet to attempt the actual application of this message.
This business fable follows a group of people who live and work together on a mysterious island. We follow the tribes of "Highlanders" and "Wurc-Urs" as they teach us how to combat one of the most negative attitudes in business while introducing us to "The Invisible Employee."
Learn how effective leaders engage their people and find a way to bring out the best in everyone. This isn't always easy to do when you face challenges like those described in a study quoted in The New York Times:
25% of employees reported being driven to tears in the workplace.
50% call their place of work a place of "verbal abuse" and "yelling."
30% are regularly given unrealistic deadlines.
52% have to work 12-hour days to get the work done.
One in 12 complain their chair hurts their posterior.
However, consider the consequences if nothing is done to address these conditions. Don't wait to find out.
In the event you may have developed a case of "thanker's block," the authors provide you with a list of 70 fun ways to recognize your best and brightest.
Those in search of rocket science need to search elsewhere as the basic principles detailed here are tremendously simple and yet very profound:
Set the vision.
Observe employees supporting the vision.
Praise and celebrate that behavior.
(This book review was originally published in 2007 as one of the Top 10 Books – Edition 16.)
Harry K. Jones is a motivational speaker and consultant for AchieveMax®, Inc., a company of professional speakers who provide custom-designed seminars, keynote presentations, and consulting services. Harry's top requested topics include change management, customer service, creativity, employee retention, goal setting, leadership, stress management, teamwork, and time management. For more information on Harry's presentations, please call 800-886-2629 or fill out our contact form.