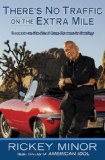 There's No Traffic on the Extra Mile: Lessons on the Road from Dreams to Destiny

by Rickey Minor
192 pages
Many people may not recognize the name Rickey Minor, but they've certainly been exposed to his talent, expertise, and influence. Rickey is the music director of American Idol and has served as music director for nearly every major American awards show including the Grammys, the Emmys, and the Super Bowl. Rickey served as the bandleader on Fox's Don't Forget The Lyrics but is best known as the current musical director and bandleader for The Tonight Show with Jay Leno.
It must feel rewarding to have testimonials on your back book cover by people like Smokey Robinson, Stevie Wonder, Annie Lennox, Usher, Whitney Houston and Carrie Underwood! Rickey would know that as he has been a friend, mentor, and/or music director to these successful artists and so many more who admire him and sing his praises.
Minor's motivational wisdom is similar to that of so many other books in the genre. However, he shares his own challenging journey from South Central (Los Angeles) to center stage of some of the most exciting events in television history.
Rickey asked himself some interesting questions and then created this book as a result of the answers he discovered within his own experiences. A few of those questions include;
How do we begin to create value, integrity, love, and truth?
How do you learn to distinguish and rise above your own limitations of circumstance or destructive mind-set?
He emphasizes his beliefs and advice by spinning stories from his life in the music business into inspirational gold, imparting the lessons he has learned the hard way, including:
Why every action moves you closer or farther away from your aspiration—and how to tell the difference.
Look for mentors. Minor recounts how Quincy Jones became his.
Always give people more than they were expecting. But remember that you can't please everyone all the time.
If you can't get what you want, it may be because you're not ready yet. When the time comes, you'll know.
The book also offers eight pages of photos from Rickey's life including his childhood, family, friends, and some of the most accomplished entertainers in the business.
Rickey's bottom line, no matter what your field of endeavor, is this: If you drive hard enough, sooner or later you will be the only one left on the road.
There's No Traffic on the Extra Mile: Lessons on the Road from Dreams to Destiny
is available from Amazon. The AchieveMax® company is an affiliate of Amazon.com.
Harry K. Jones is a motivational speaker and consultant for AchieveMax®, Inc., a company of professional speakers who provide custom-designed seminars, keynote presentations, and consulting services. Harry's top requested topics include change management, customer service, creativity, employee retention, goal setting, leadership, stress management, teamwork, and time management. For more information on Harry's presentations, please call 800-886-2629 or fill out our contact form.