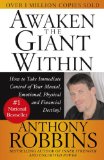 Awaken the Giant Within: How to Take Immediate Control of Your Mental, Emotional, Physical and Financial Destiny!

by Anthony Robbins
He's back-k-k-k-k-k! As a matter of fact, he never left. My first exposure to this author's work came from his first book, Unlimited Power, published in 1986. Six years later, in 1992, he published this book. It's obviously stood the test of time and is as relevant today as it was almost 15 years ago. Oddly enough the public hasn't changed much in that time either. They seem to be very much divided in their support and approval of this re-release of Tony's best-selling book. Many continue to accuse him of overly simplistic psychobabble and fraud while others are claiming to enjoy their second reading of the book even more so than their initial exposure.
I'd like to address that very issue as it represents a growing problem at a time when we can certainly use any and all tips, tools, and strategies that may assist us in the constant challenges we find in today's growing global business environment. However, I'll use this space to review the book and invite you to visit our blog for greater insights into this growing dilemma.
As you work your way through these 540 pages, I highly recommend that you have a legal pad nearby as you'll certainly be taking a lot of notes. If you've seen any of Tony's many fast-paced infomercials—and you're in the minority if you haven't—you'll find his book very similar. You can almost see his giant smile on every page and hear that booming voice challenging you to take control of your life as you read his words! He offers a cornucopia of material from belief systems and goal-setting to Neuro-Linguistic Programming (NLP), personal finance, and relationships. In fact, he covers such a myriad of information that you might find it overwhelming. Don't make the mistake of feeling as though every suggestion is the perfect fit for you. In fact, you may find some things that you simply aren't comfortable with. Fret not as you'll certainly find many other suggestions that will quickly move you to action and provide the success you're searching for. In short, this book is a manual for life, a self-help classic. It's every bit as applicable today as it was the day it was published.
I especially enjoy and appreciate the fact that while Tony eagerly shares his own personal and professional development system, "Personal Power," he also shares the wisdom of dozens of other respected experts from a variety of fields as he shows you the importance of taking control of your life. There's a reason why this man is an internationally best-selling author with five books published in 14 languages, has sold more than 35 million audio tapes worldwide, is one of the most sought-after speakers in the world, has spoken to more than three million people from more than 80 countries, and has met with, consulted, or advised international leaders, including Nelson Mandela, Mikhail Gorbachev, Margaret Thatcher, Princess Diana, Mother Theresa and three U.S. Presidents. He serves as chairman of five private companies and vice chairman of two others, that together generate half of $1 billion in revenue per year. He has advised and counseled Fortune 500 CEOs, world-renowned medical doctors, championship sports teams (including America's Cup Winner, America 3; Stanley Cup finalist, Los Angeles Kings; NBA Champion San Antonio Spurs; and other teams in the NHL, MLB, and NBA), elite athletes and coaches (including Andre Agassi, Greg Norman, and championship winning athletes in the NFL, PGA, USTA and NASCAR) and legends in entertainment (such as Quincy Jones and Anthony Hopkins).
Robbins is the founder of his own charity, know as the Anthony Robbins Foundation, which promotes helping prisoners to improve their lives, food drives (the annual Basket Brigade) and the empowerment of youth through schools. The Basket Brigade provides baskets of food and household items for more than 2 million people in 74 countries annually at Thanksgiving! He's known by many as "The High Priest of Human Potential."
So-o-o-o-o-o, listen to his critics. Some of what they say is certainly true. He's arrogant, pushy, sometimes coming across like a used car salesman on the last day of a super sale. His 6"7″, 265 lb. frame is intimidating as his size-16 shoe boats carry him across the stage in leaps and bounds, harnessing the energy of the crowd. You may be less than enthused as he urges you to bare your feet and join him in a casual firewalk stroll across fire hot coals. However, whatever you think, whatever you do—read this book, follow his advice, and take control of your own destiny. You won't regret it! Then do us all a favor and contact that critic and let him/her know how it went.
(This book review was originally published in 2007 as one of the Top 10 Books – Edition 15.)
Harry K. Jones is a motivational speaker and consultant for AchieveMax®, Inc., a company of professional speakers who provide custom-designed seminars, keynote presentations, and consulting services. Harry's top requested topics include change management, customer service, creativity, employee retention, goal setting, leadership, stress management, teamwork, and time management. For more information on Harry's presentations, please call 800-886-2629 or fill out our contact form.