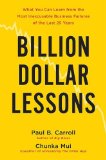 Billion-Dollar Lessons: What You Can Learn from the Most Inexcusable Business Failures of the Last 25 Years

by Paul B. Carroll and Chunka Mui
I find it rather ironic that there are so many well-written best sellers on the shelves today (Built to Last, Good to Great, etc.) that expound on examples of successful organizations and how they reached that level of achievement. This is a good thing. However, the irony emerges in the fact that there are so few books sharing the very valuable lessons to be learned from those organizations that have failed.
MBA programs and benchmarking guidelines follow suit … study the "best of the best" and sweep the worst case scenarios under the rug.
Here's another sliver of irony for you. This book emerges in 2008 … the year the world economy commenced its greatest meltdown since the Great Depression. There will certainly have to be a follow-up book to cover the disintegration of the investment banking industry, the day-by-day soap opera within the auto industry, and the disappearance of so many of our retail establishments. Of course, the title will have to be updated to Quadrillion Dollar Lessons.
Isn't it sad but interesting that our grandchildren will not only have to know the following words but also use them in their day-to-day vocabulary? … Billion, trillion, quadrillion and quintillion.
This book unfolds in three lessons. In Lesson One, the authors share their in-depth research revealing that between 1981 and 2006, 423 major companies with combined assets totaling 1.5 trillion filed for bankruptcy! Hundreds more took huge write-offs, discontinued major operations, or were acquired under duress. Billion Dollar Lessons reveals seven major strategies that led to many of the largest business failures documented in the book.
These strategies are defined and examined in Lesson Two:
Synergy
Financial engineering
Rollups
Staying the course
Adjacencies
Riding technology
Consolidation
The authors make it very clear that these seven strategies aren't doomed to failure. Each of these strategies can succeed splendidly. They simply point out that each of these strategies are danger zones and anyone pursuing them should be extremely alert as to what can go wrong as they are flirting with potential disaster.
Lesson Three focuses on providing proven methods that managers, boards, and even investors can adopt to avoid making the same mistakes. It draws on vivid, off-the-beaten-track examples to help you thoroughly assess potential disastrous strategies before they result in catastrophe.
There is much to be learned from the many interesting case studies you'll find in this book. The authors do a very good job in revealing the root-causes for these business failures. From their thorough database of 2,500 corporate failures over the last 25 years, they identify many organizations you'll immediately recognize (Adelphia, Enron, Montgomery Ward), many that will surprise you (Barnes & Noble, Kroger, Avon), and even more you've never heard of.
The "Tough Questions" and the "Red Flags" at the end of each chapter will certainly provide fodder for reflection. Business executives would benefit greatly from these valuable tools alone.
Carroll, a former writer for the Wall Street Journal, and Mui, a fellow at Diamond Management and Technology Consultants, have provided a great service to those who require a Significant Emotional Event to learn a lesson—those who have to "SEE it to believe it." Better to learn from someone else's experience rather your own.
While this book is the opposite of Good to Great, it may very well keep you from going from good to gone!
(This book review was originally published in 2009 as one of the Top 10 Books – Edition 19.)
Harry K. Jones is a motivational speaker and consultant for AchieveMax®, Inc., a company of professional speakers who provide custom-designed seminars, keynote presentations, and consulting services. Harry's top requested topics include change management, customer service, creativity, employee retention, goal setting, leadership, stress management, teamwork, and time management. For more information on Harry's presentations, please call 800-886-2629 or fill out our contact form.