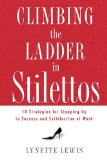 Climbing the Ladder in Stilettos: 10 Strategies for Stepping Up to Success and Satisfaction at Work

by Lynette Lewis
I always admire an author with the ingenuity to formulate a book title that will hook a potential reader at 10 paces. This is obviously one of those titles, and you'll have to admit it's catchy. The one issue I do have with this title is the fact that 99.5% of male readers will march right past this offering assuming its content is advantageous for females only. That I can't agree with. I first browsed through its content to see if it was something I'd want to suggest to the many female team leaders, supervisors, department heads, vice presidents, and CEOs we work with in our leadership programs. It took me only a few minutes to know that this book would be a valuable asset to anyone striving for success in their career pursuits.
When it comes to stilettos, I don't know Jimmy Choos from Manolo Blahniks. I doubt if that'll ever be a concern for me. Author and speaker-motivator Lynette Lewis doesn't seem to be concerned either as her focus is obviously on your personal brand as opposed to a consumable wearable brand.
I personally believe the author meant to create a go-to-guide for life as a woman in today's very competitive, global marketplace and working world. I also believe she achieved just that. However, I would venture to speculate that the majority of her content could easily be adapted and utilized successfully by any man who shared that goal of personal success.
Let me give you a few examples. I'm often faulted for giving away too much information in my reviews. Personally, I'm not even certain you can do that when it comes to the subject of career success. Regardless, let me spare the details and just whet your appetite by teasing you with her 10 strategies by title:
Create a Purpose Statement for Life and Work
Become Personally Whole
Adopt Methods for Gaining New Joy and Satisfaction
Discover Gifts in Surprising Places
Follow the Four Principles of Promotion and Build Your Personal Brand
Organize a Personal Board of Directors
Implement Creative Tools That Maximize Everyone on the Team
Follow an Approach to Speaking That Works Every Time
Expand Your Definition of Mentoring
View Your Life Through the Lens of Hope and Possibility
If you have the tendency to want to skip Strategy #8 because you've never been interested in "speaking," think again, be patient, open your mind and hear what the lady has to say. She's right on the money as she explains the many reasons, challenges and benefits to becoming a better speaker. It doesn't matter if you're speaking to one other person, a small committee, a mid-sized meeting, or an intimidating full house … the rewards of doing a good job can be extraordinary. The consequences of a poor performance can be disastrous! This one strategy alone can be decisive to your success even though it addresses a subject that many might prefer to avoid. Don't make that mistake.
I very much enjoyed the many quotes and stories the author shared of incredible women who made that precarious climb up the ladder while keeping their proverbial stilettos and heart intact. Through these revealing examples, Lynette Lewis shares the secrets to purposeful work and focused dedication to her time-tested strategies.
One last observation … quickly review the author's 10 strategies listed above. Which, if any, would you consider to be beneficial to women alone? Personally, I found all of them to be enlightening, significant, inspirational, and necessary for anyone accepting the challenge of mastering that traditional ladder of success! Therefore, if you're a man who is second-guessing the value of this book that was written with women in mind—for fear that it may threaten your manhood—you have other problems that demand your attention!
Whether you're stuck in a dead-end job or are living the career of your dreams, Climbing the Ladder in Stilettos should be among the must-read books in your personal and/or business library.
(This book review was originally published in 2007 as one of the Top 10 Books – Edition 15.)
Harry K. Jones is a motivational speaker and consultant for AchieveMax®, Inc., a company of professional speakers who provide custom-designed seminars, keynote presentations, and consulting services. Harry's top requested topics include change management, customer service, creativity, employee retention, goal setting, leadership, stress management, teamwork, and time management. For more information on Harry's presentations, please call 800-886-2629 or fill out our contact form.