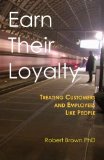 Earn Their Loyalty: Treating Customers and Employees Like People

by Robert Brown, Ph.D.
I truly enjoy storytelling as a means of learning new information, and I indeed respect any author who can do it well. In a mere 199 pages, Robert Brown has provided an intriguing story, great wisdom and has certainly done it well.
The author shares the story of George Corbett, a high-powered senior vice president of a growing furniture company in the American Southeast, who has had it rough the past few years. He takes a solo vacation to Scotland to sort things out and chances across Angus McTavish, Ph.D., M.D., M.B.E., who is an extraordinary man from a small village who, with the assistance of a super computer, becomes somewhat of a mentor for George. Based on this unique collaboration, George learns lessons which will propel his company to the top in customer loyalty and employee satisfaction.
What George learns as a result of his time with Angus and the super computer can easily be applied to any business and/or industry. I'm not going to share the details, but you'll find the following information very useful in your own quest for excellence, productivity and profitability:
The three necessary criteria for hiring the right person
The four Cs of service
The critical service continuum
How to insure that your employees can end the workday happy
The importance of virtual customers
At the end of each chapter, the author shares a note page of key points summarizing what George feels will greatly enhance his business. I found these summary pages to be quite helpful in organizing my own thoughts.
In this revealing read, the author also focuses on the importance of:
Personal mission statements
Customer service value streams
Moments of truth
The importance of human-to-human connections
The critical need for cccountability
The benefits of scripts and mnemonics as customer service tools
The primary role of management
Employee-created vision statements
Building team dynamics
The author's bottom line is simple yet challenging. Creating loyalty isn't easy. You cannot mandate it, standardize it or make it happen through policies and procedures. You have to earn it.
Earn Their Loyalty provides a practical blueprint which can be successfully executed by any organization.
Earn Their Loyalty: Treating Customers and Employees Like People
is available from Amazon. The AchieveMax® company is an affiliate of Amazon.com.
Harry K. Jones is a motivational speaker and consultant for AchieveMax®, Inc., a company of professional speakers who provide custom-designed seminars, keynote presentations, and consulting services. Harry's top requested topics include change management, customer service, creativity, employee retention, goal setting, leadership, stress management, teamwork, and time management. For more information on Harry's presentations, please call 800-886-2629 or fill out our contact form.