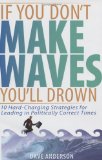 If You Don't Make Waves, You'll Drown: 10 Hard Charging Strategies for Leading in Politically Correct Times

by Dave Anderson
Prior to every keynote or seminar, we offer the disclaimer that we're about to share with you what you NEED to hear rather than what you WANT to hear. I guess I always felt that was pretty daring and bold in this day and age of pampering audiences and sharing warm fuzzy antidotes in hopes of inspiring enhanced productivity, profitability, and prosperity. Never again. Our remarks seem insignificant after reading this book.
Two chapters into Dave Anderson's rantings, I must admit I was angered, insulted, disturbed, embarrassed, offended, irritated and exhausted. I felt abused, almost drawn and quartered. I felt I had been kicked in the shins, slapped in the face, and had the wind knocked out of me. But wait, don't misunderstand. That's apparently a good thing. The author actually predicted many of those reactions. In fact, he claims he would have failed his readers if, in fact, he had NOT provoked those many emotions within us. As he says, frustration and dissatisfaction are unequalled motivators, and that's exactly what is needed in today's chaotic business environment.
I bought this book at the airport in Los Angeles prior to a long red-eye flight back to Michigan. It shortened the flight dramatically. I discovered very quickly that this is certainly not your typical business book. Anderson's direct and bare-knuckles approach makes you realize that he has no intention of inspiring you but has every intention of taunting you into action.
He pulls no punches in pointing out that today's business leaders are running out of time. Look around and you'll see that our businesses are mired in mediocrity today. You won't find academic remedies to your business challenges within these fast-turning pages. In fact, you'll find the opposite—tips on how to be a tougher, take-no-prisoners style manager.
He shows you how to be more direct without being disrespectful; how to give honest feedback even when it hurts; and how to hold employees accountable for results. In short, you'll learn how to get the most out of your business. Refusing to beat around the bush, the author tells you how to motivate lazy employees, reward the winners, fire the losers, and run a tight and profitable ship. No doubt this advice will be tough medicine for some companies until they consider the obvious alternative which is reported almost daily in headlines from coast to coast.
As a business consultant, I'd like to put this book into the hands of every one of our clients. It's filled with simple, to-the-point wisdom that only sounds clichéd because it works. This is the perfect book for aligning your company and your employees to grow your organization and exceed customer expectations. Anyone using this book as a template for a bold new business model will clearly reach levels only dreamed of in the past!
Buy this book. Grab a legal pad. Lock your door. Turn off your phones. Climb into a very comfortable chair. Buckle your seatbelt. Don your armor. Open your mind.
If you want real answers to your business challenges, this is the reference book. There is no sugar coating here, just the facts. You'll find many solutions that will definitely work if YOU have the guts to pull the trigger! This may well be your last chance!
(This book review was originally published in 2005 as one of the Top 10 Books – Edition 14.)
Harry K. Jones is a motivational speaker and consultant for AchieveMax®, Inc., a company of professional speakers who provide custom-designed seminars, keynote presentations, and consulting services. Harry's top requested topics include change management, customer service, creativity, employee retention, goal setting, leadership, stress management, teamwork, and time management. For more information on Harry's presentations, please call 800-886-2629 or fill out our contact form.