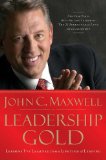 Leadership Gold: Lessons I've Learned from a Lifetime of Leading

by John C. Maxwell
If you've been following our book reviews over the years, you probably know how I feel about this particular author. Of his 42 best sellers, this is the sixth book that I've reviewed here. To me, reading one of his books provides me with the content of four books by any other author. It takes me two full liquid hi-liters to finish each of his books as he packs each with great applicable material from cover to cover.
This internationally recognized leadership expert, speaker, and author has sold over 13-million books, and his organizations have trained more than two million leaders worldwide. He was named the World's Top Leadership Guru by Leadershipgurus.net. I don't share these facts to praise Maxwell … he doesn't need my support. I do so in hopes you'll realize how valuable his books can be to your leadership growth potential!
Let me explain why you may want to approach this book with an additional hi-liter:
As usual, you can expect to find a tremendous number of relevant quotes by some of the greatest minds in history dispersed throughout this book.
At the end of each of the 26 chapters, you'll find what John calls a Mentoring Moment. Each is a short, thought-provoking gem which transforms that particular chapter into a one-on-one mentoring session with the author.
There's still another bonus at the conclusion of each chapter in the form of application exercises which underscore the importance of closing the knowing-doing gap by applying what you learn rather than just reading it.
You'll also discover a link that will transport you to a video clip of John teaching more of his leadership philosophy along with access to additional helpful tools and information.
This book is filled with stories of Maxwell's leadership failures and successes and the nuggets of wisdom he gained as a result of both. The author has compiled the hardest-won leadership lessons of his life into a book that can be used to mentor future leaders … something that's seldom done in today's chaotic world. He's sifted through a lot of dirt in order to deliver the gold!
More often than not, I learn more browsing the contents page of a Maxwell book than I do from reading the entire text of so many other authors. Let me show you what I mean. Consider these random chapter titles:
The Toughest Person to Lead Is Always Yourself
Never Work a Day in Your Life
The Best Leaders Are Listeners
A Leader's First Responsibility Is to Define Reality
To See How a Leader Is Doing, Look at the People
Don't Send Your Ducks to Eagle School
Your Biggest Mistake Is Not Asking What Mistake You're Making
Keep Learning to Keep Leading
People Quit People, Not Companies
The Secret to a Good Meeting Is the Meeting before the Meeting
The Choices You Make, Make You
You Only Get Answers to the Questions You Ask
People Will Summarize Your Life in One Sentence—Pick It Now
Now tell me you haven't been enticed to learn what may lie within each of those chapters. And if you don't think the author is on target with his content, pause a moment to visualize a CEO, president, vice president, manager, supervisor, or even a team leader you've worked with over the years. Don't you agree that this person would have benefited from a little more focus in some of the above areas? So will you! Do it now and prosper. Don't wait and wonder what might have been.
(This book review was originally published in 2008 as one of the Top 10 Books – Edition 18.)
Harry K. Jones is a motivational speaker and consultant for AchieveMax®, Inc., a company of professional speakers who provide custom-designed seminars, keynote presentations, and consulting services. Harry's top requested topics include change management, customer service, creativity, employee retention, goal setting, leadership, stress management, teamwork, and time management. For more information on Harry's presentations, please call 800-886-2629 or fill out our contact form.