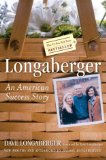 Longaberger: An American Success Story

by Dave Longaberger
"They" say you should never judge a book by its cover. "They" are not always right. In this case, it's just the opposite. At first glance, you see a picture of what looks like a picnic basket covering 2/3 of the cover. Upon close examination, you see what appears to be miniature people and trees around the base of the basket, and you realize that this is actually a picture of Longaberger's seven-story office building created in the precise form of its trademark classic Market Basket! Scores of readers have seen pictures of this one-of-a-kind structure in leading magazines, newspapers, and television stories, while others have taken advantage of the daily tours which attract 25 to 30 busloads of curious visitors a day during busy season. This unique cover is just a sample of the remarkable story you'll find in the pages of this American success story.
Dave Longaberger is no longer with us. He passed away in 1999. However, after reading this book, I can easily visualize him joyously weaving away in that Great Basket in the Sky as he keeps a loving eye on his 8,700 employees and 70,000+ independent sales associates across the U.S.
Dave reminds me a lot of Walt Disney—a remarkable entrepreneur with a unique vision, unorthodox business methods, and a rare belief in people, resulting in the creation of one of the largest and most successful private companies in America. He never went to college or took a business-training course. From a bare-bones beginning with a handful of part-time employees in 1972, Dave created a sprawling campus of office facilities, production plants where basket makers create more than 40,000 high-quality baskets every day, and tourist attractions in and around central Ohio.
Dave's dedication, tenacity, and rare people skills combined to produce the privately-owned company which currently thrives to the tune of $1 billion in sales under the leadership of President and CEO Tami Longaberger. This organization screams of "Employer of Choice," and you'll certainly understand why when you learn the 18 management principles on which Dave built this empire.
This inspiring story of family tradition and pride will keep you riveted from cover to cover. This story is a must-read for anyone seeking inspiration, education, and a great story!
(This book review was originally published in 2001 as one of the Top 10 Books – Edition 8.)
Harry K. Jones is a motivational speaker and consultant for AchieveMax®, Inc., a company of professional speakers who provide custom-designed seminars, keynote presentations, and consulting services. Harry's top requested topics include change management, customer service, creativity, employee retention, goal setting, leadership, stress management, teamwork, and time management. For more information on Harry's presentations, please call 800-886-2629 or fill out our contact form.