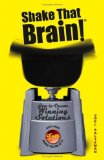 Shake That Brain: How to Create Winning Solutions and Have Fun While You're at It

by Joel Saltzman
Take a look at that title. You must admit that you were drawn to those three words. Add that to two aspects of the subtitle—having fun and creating winning solutions. As though that weren't enough, take a gander at the picture of the author on the back cover, and I guarantee you're going to take a look inside if to do nothing more than satisfy your curiosity. I can also guarantee you won't be disappointed. Give the author credit for pulling you in—he knows how to get peoples' attention. Joel Saltzman served time as a stand up comic and wrote for the sitcoms "Perfect Strangers" and "The Robert Guillaume Show." He graduated from Cornell and taught at UCLA. He's a professional speaker, consultant, and best-selling author who has conducted his Shake That Brain! programs for a variety of his well-known corporate clients.
What I really enjoy about this book is the fact that I can open to almost any page and find something of interest. I'm certain the author would recommend and prefer that readers start with page one and read the book in the order it was written. I would have to agree. However, I often like to take a look at the table of contents to see if there are any particular areas that grab my attention. I'm always pleased to discover an author who has created a format that allows me to jump around his content and still derive substance I can apply with success. Joel has certainly done that.
There are so many things I enjoyed about this book and I appreciate the fact that I can apply the majority of them to both my personal AND professional lives. It's also an easy read as your eyes bounce from BOLD print to small print to gray scale to boxed content—it's fast, fun and easy. In addition, the content will keep you guessing, laughing, learning, and wanting more.
For example: Imagine having "Yes" meetings only. In another chapter, learn why it's wise to never take yes for an answer. You can learn to successfully do both as various situations demand. Read eye-opening quotes from notable leaders in every field of endeavor. You'll also learn some exceptional, creative strategies, and you can expect to find an example, analogy, story or reference to support each. You'll discover a wide variety of exercises, easy-to-apply formulas, entertaining pop-quizzes, and eye-opening teaching examples from every walk-of-life which has created a real solution-finding guidebook. Joel has provided "Chapter Take Aways" to recap and emphasize valuable content for your clarification.
I have neither the time nor the space to start describing the many tools and strategies you'll find in this book. However, I can assure you of this: From the World's Worst Pizza and "Seeing Eye Ponies" to the proper method of splitting a cake and Bill Gates' "Think Week," you'll find this book educational, humorous, enlightening, challenging, energizing, and, in short, just plain fun.
(This book review was originally published in 2007 as one of the Top 10 Books – Edition 15.)
Harry K. Jones is a motivational speaker and consultant for AchieveMax®, Inc., a company of professional speakers who provide custom-designed seminars, keynote presentations, and consulting services. Harry's top requested topics include change management, customer service, creativity, employee retention, goal setting, leadership, stress management, teamwork, and time management. For more information on Harry's presentations, please call 800-886-2629 or fill out our contact form.