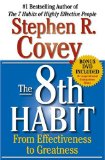 The 8th Habit: From Effectiveness to Greatness

by Stephen R. Covey
It was just a matter of time … If you read The Seven Habits of Highly-Effective People, as well over 15 million readers worldwide have done, you had to know that Stephen Covey would someday, inevitably, give us The 8th Habit. In fact, most of us expected it long before this.
Prior to examining his latest contribution, let's take a look at what's occurred since Covey introduced his original work which inspired readers worldwide.
The 7 Habits has sold 15 million copies and continues to sell 50,000 to 100,000 a month.
At 1.5 million copies, The 7 Habits is the best-selling non-fiction audio book in history!
The 7 Habits was published in 38 languages and 75 countries.
The 7 Habits ranked as a No. 1 best seller by The New York Times and Business Week.
It was named as one of the two most influential business books of the last century by Executive magazine.
A survey by Chief Executive magazine chose The 7 Habits as the most influential book of the 20th Century.
Time Magazine previously named Covey one of the 25 most influential Americans.
Following his initial success, he followed The 7 Habits with:

The 7 Habits of Highly Effective Families
Living the 7 Habits
The Nature of Leadership
First Things First
Principle-Centered Leadership

The 8th Habit is 50 pages longer than the original seven habits combined.
The 8th Habit hit bookstores almost 15 years to the day after the original was released.
Covey received the Entrepreneur of the Year's Lifetime Achievement award.
Covey's organizational legacy to the world is Covey Leadership Center—a worldwide, 700-member leadership development firm.
In 1997, a merger with Franklin Quest created the new Franklin Covey Company with more than 3,000 employees and $500 million in annual revenue and noted throughout the world for the Franklin Planner. Dr. Covey is currently Vice-Chairman of Franklin Covey, the world's largest management and leadership development organization.
His advice has been sought by people as distinguished as the President of the United States and CEOs of major FORTUNE 500 companies.
Stephen Covey is one of the few management authorities to have stood the test of time. That fact alone makes him worth listening to, which leads us to The 8th Habit: From Effectiveness to Greatness. Covey says that the 8th habit is finding one's "voice" … the quality that makes each person unique. He believes that possession of this quality is the road to success. Covey says that after we find our voice, we can then inspire others to find theirs. Additional support for this thinking comes from Mahatma Gandhi who said: "The difference between what we are doing and what we are capable of doing would solve most of the world's problems."
The world has profoundly changed since The 7 Habits of Highly Effective People was published in 1989. The challenges and complexity we face in our personal lives and relationships, in our families, in our professional lives, and in our organizations are of a different order of magnitude. In fact, many mark 1989, the year we witnessed the fall of the Berlin Wall, as the beginning of the Information Age, the birth of a new reality, truly a new era.
The majority of the book details with how, after finding your own voice, you can inspire others and create a workplace where people feel engaged. This includes establishing trust, searching for third alternatives and developing a shared vision.
When you study the lives of all great achievers, you will find a pattern. This pattern consists of four capacities: vision, discipline, passion and conscience. These capacities embody many, many other characteristics used to describe those traits we associate with people whose influence is great, whether known to many or few. Covey defines, models and shares examples of each of these timeless principles. The 8th Habit, then, is not about adding one more habit to the seven—one that somehow got forgotten. It's about seeing and harnessing the power of a third dimension to the 7 Habits that meets the central challenges of the New Knowledge Worker Age.
This certain-to-be-classic book includes a Bonus DVD of 16 inspirational companion films—each of which will provide additional inspiration and insight for readers.
Covey's new book will transform the way we think about ourselves and our purpose in life, about our organizations, and about humankind. Just as The 7 Habits of Highly Effective People helped us focus on effectiveness, The 8th Habit shows us the way to greatness.
(This book review was originally published in 2005 as one of the Top 10 Books – Edition 13.)
Harry K. Jones is a motivational speaker and consultant for AchieveMax®, Inc., a company of professional speakers who provide custom-designed seminars, keynote presentations, and consulting services. Harry's top requested topics include change management, customer service, creativity, employee retention, goal setting, leadership, stress management, teamwork, and time management. For more information on Harry's presentations, please call 800-886-2629 or fill out our contact form.