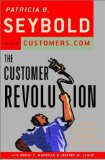 The Customer Revolution

by Patricia B. Seybold
For most companies, the issue of customers in charge is just coming onto the radar screen. For many, it was over before they had an inkling. Patricia Seybold, author of the influential, best-selling Customers.com, makes it plain in her most recent offering, that this can be either your biggest problem or your greatest opportunity.
Thanks to the Internet and mobile wireless devices, both business and consumer customers are demanding that you change your pricing structure, distribution channels, and the way you design and deliver products and services. Your business must be transformed so that it is completely customer-centric, or you will be out of business.
You can fight it if you want but you're better off, says the author, to practice "sweet surrender," just as the music industry has started to come to terms with Napster. Many try to characterize the changes taking place as the New Economy, the Internet Economy, or the information, knowledge, or bio-economy. However, simply put, what we now have is a customer economy, and it's going to result in changes that you would not have thought possible even a few short years ago.
Seybold has been on a worldwide quest to find companies in North America, Europe, and Asia that are developing the state-of-the-art practices that will help them win in the new area of the customer economy. They're profiled and analyzed in case studies ranging from small businesses to multinational giants and range from manufacturers to retailers, and service firms. What she provides is not only a brilliant analysis but also a practical program for how you can make the customer revolution a profitable one. The companies that thrive in the customer revolution will be those that measure and monitor what matters to customers, in near real time!
(This book review was originally published in 2001 as one of the Top 10 Books – Edition 7.)
Harry K. Jones is a motivational speaker and consultant for AchieveMax®, Inc., a company of professional speakers who provide custom-designed seminars, keynote presentations, and consulting services. Harry's top requested topics include change management, customer service, creativity, employee retention, goal setting, leadership, stress management, teamwork, and time management. For more information on Harry's presentations, please call 800-886-2629 or fill out our contact form.