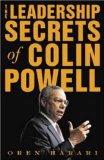 The Leadership Secrets of Colin Powell

by Oren Harari
Here's a book that caught me totally off guard and turned out to be much different than I had expected. I must admit that I was drawn to it because I had the opportunity to meet Colin Powell in person at a reception following one of his many motivational offerings as part of a national speaking tour. Observing him from the audience and later at the reception, I couldn't help but admire his ability to captivate, motivate, and communicate with a wide variety of personality and leadership styles. Like him or not—agree with or not—you've got to admit that this man exudes integrity as he proves to be witty, articulate, insightful, and self-deprecating. He spoke on leadership that particular day, and it was obvious that he was an authority on the subject. He held the audience in the palm of his hand throughout his presentation. Meeting him in person was even more impressive as he looks you straight in the eye and focuses on your every word. It's easy to understand why he's gained the admiration and respect of so many.
Now let me tell you about the book. As I mentioned earlier, this book is misleading—which isn't necessarily a bad thing. If you're thinking of passing on this particular publication because you're not interested in the military and/or politics, you might want to take a closer look. This is obviously a book on leadership, and you don't have to be a CEO, Lieutenant-colonel, Senator, or even a front-line manager to find value here. Any reader will find wisdom here that can easily be applied to daily life.
This book is not a biography of Colin Powell. Again, it dwells on leadership using Powell as the source and role model for the principles it shares and attempts to apply to any setting.
This book is not written by Powell nor is it intended as a tribute to Colin Powell. The author is a professor of management at the University of San Francisco, speaker, consultant, and prominent author of six previous books. Although it's obvious that the author respects, admires, and even likes Powell, he admits that this renowned leader has his critics and detractors, and even includes some of their opinions throughout the book. I found this refreshing as it added credibility and realism to the contents.
Something I found especially useful was a content summary and a recap of Powell Principles at the end of each chapter. At the end of the book, you'll find a seven-page Leadership Primer containing Quotations from Chairman Powell … an article reprinted from a previous issue of the American Management Association magazine. In it you'll find 18 priceless leadership lessons … a compendium of advice from the General that anyone will find useful in today's challenging environment.
Let me close this review with a few samples of what you'll find within the pages of The Leadership Secrets of Colin Powell.
Put people over plans.
Change before you are forced to.
You don't know what you can get away with until you try.
Don't be afraid to challenge the pros, even in their own backyard.
Being responsible sometimes means pissing people off.
Great leaders are always great simplifiers who can cut through argument, debate and doubt, to offer a solution everyone can understand.
Never let your ego get so close to your position that when your position goes, your ego goes with it.
Surround yourself with people who take their work seriously, but not themselves, those who work hard and play hard!
(This book review was originally published in 2002 as one of the Top 10 Books – Edition 10.)
Harry K. Jones is a motivational speaker and consultant for AchieveMax®, Inc., a company of professional speakers who provide custom-designed seminars, keynote presentations, and consulting services. Harry's top requested topics include change management, customer service, creativity, employee retention, goal setting, leadership, stress management, teamwork, and time management. For more information on Harry's presentations, please call 800-886-2629 or fill out our contact form.