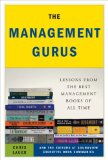 The Management Gurus: Lessons from the Best Management Books of All Time

by Chris Lauer and the Editors at Soundview Executive Book Summaries
Let's face it. Today we're living in the age of information overload.
In this chaotic world of growing challenges and diminishing leisure time, it's becoming more and more difficult to read as many books as we'd like to.
There should be a simple solution. And there is.
Soundview Executive Book Summaries provides you with an easy way to familiarize yourself with the key points of today's top business books without investing an enormous chunk of your invaluable time.
Thirty years ago, the founders of Soundview Executive Book Summaries pioneered the concept of outlining the key points and ideas of full-length business books into quick and easy-to-read print summaries.
Throughout the years, Soundview has worked closely with the leading business book publishers of the world to offer print summaries of the 30 best business books of the year to its more than 50,000 worldwide subscribers. These summaries distill thousands of pages about leadership, strategy, crisis management, organizational behavior, and more—perfect for busy executives and students.
As time challenges increased so too did the creative options offered by this organization. Soundview went online with the summary.com web site in 1995. In 2000, Soundview began offering audio-cassette and CD versions of its summaries as well as an electronic version of its book summaries.
Following its successful first collection, The Marketing Gurus, Soundview shifted its focus to The Managing Gurus. While I thoroughly enjoyed these summaries and readily admit that each is a reputable publication, I'm not certain I can agree that these are the "best management books of all time." I'd feel more comfortable saying they are "among the best," but I guess that wouldn't suffice as a subtitle that reaches off the shelf and grabs potential readers by the throat. I make this observation based on the fact that there are a good number of management gurus, old and new, who are not mentioned here (Jack Welch, Jim Collins, Peter Drucker, and Warren Buffett to name a few). However, based on the success of this book, I'm certain there will be future additions to follow.
Senior Editor Chris Lauer and his collaborators have done a fine job of creating a reader-friendly standard format that offers options based on how much information you may require or desire:
They begin each review with a brief introduction to the author or authors …
followed by a short but thorough table of contents …
a short "Summary in Brief" is offered which includes …
"What You'll Learn in this Summary" presented in a short, bullet-point format and …
more in-depth information is then offered in "The Complete Summary."
The authors have done a fine job of providing key concepts in a way that can be clearly understood and easily adopted and adapted for practical use by any reader from any business environment.
The 15 books summarized in this edition include many highly respected authors and reflect a representative range of important topics. The books included are:
Winning with People: Discover the People Principles that Work for You Every Time by John C. Maxwell
Topgrading: How Leading Companies Win by Hiring, Coaching, and Keeping the Best People by Bradford D. Smart, Ph.D.
Jack Welch and the 4 E's of Leadership: How to Put GE's Leadership Formula to Work in Your Organization by Jeffrey A. Krames
The Leadership Challenge: The Most Trusted Source on Becoming a Better Leader by James Kouzes and Barry Posner
Gods of Management: Managing the Battle of Organizational Cultures by Charles Handy
Influencer: The Power to Change Anything by Patterson, Grenny, Maxfield, McMillan and Switzler
True North: Discover Your Authentic Leadership by Bill George and Peter E. Sims
What Got You Here Won't Get You There: How Successful People Become Even More Successful by Goldsmith and Reiter
Judgment: How Winning Leaders Make Great Calls by Noel Tichy and Warren Bennis
Small Giants: Companies That Choose to be Great Instead of Big by Bo Burlingham
Dealing with Darwin: How Great Companies Innovate at Every Phase of their Evolution by Geoffrey A. Moore
Wikinomics: How Mass Collaboration Changes Everything by Tapscott and Williams
Managing Crises Before They Happen: What Every Executive Needs to Know About Crisis Management by Mitroff and Anagnos
The Leader of the Future: New Visions, Strategies, and Practices for the Next Era by Hesselbein, Goldsmith, and Beckhard
The Next Global Stage: Challenges and Opportunities in Our Borderless World by Kenichi Ohmae
Focused, insightful and practical, this edition deserves a spot on your "must read" list in today's challenging, competitive and chaotic environment.
(This book review was originally published in 2009 as one of the Top 10 Books – Edition 19.)
Harry K. Jones is a motivational speaker and consultant for AchieveMax®, Inc., a company of professional speakers who provide custom-designed seminars, keynote presentations, and consulting services. Harry's top requested topics include change management, customer service, creativity, employee retention, goal setting, leadership, stress management, teamwork, and time management. For more information on Harry's presentations, please call 800-886-2629 or fill out our contact form.