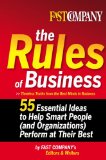 The Rules of Business: 55 Essential Ideas to Help Smart People (and Organizations) Perform at Their Best

by FAST COMPANY's Editors and Writers
I came across this book on a recent browsing excursion through my local bookstore. I must admit my motive evolved from my admiration and constant reference to the monthly magazine FAST COMPANY. I've been an avid fan of this publication for ten years now as it has provided me with a great deal of research data in my roles as a speaker and consultant. Knowing the quality of the magazine content, I was anxious to see what the book had to offer. I certainly wasn't disappointed.
I found 22 chapters covering such essential areas as change, creativity and innovation, communication, customer service, technology, employee retention, leadership and teamwork to name just a few. Each category is introduced by a two-page commentary and weaves two to four essential rules throughout every chapter. At the end of each chapter, you'll find a boxed, bulleted "Fast Take" section providing specific take-aways you can use in your daily routine.
The true value of each chapter, however, appears in the form of the tremendous insights, quotes, and valuable advice gathered from more than 200 of the greatest business minds in the world. Many are currently active in their specialized fields, some are currently retired, and some left us long ago although their influence will live on forever.
It's a mere 246 pages in length, but each page is filled with a wealth of "timeless truths" from the very best minds in business. Consider just a few of the 200 business leaders, politicians, practitioners, and thinkers who have contributed to this essential desk reference: Warren Buffett, Bill Gates, Tom Peters, Jack Welch, Jeff Bezos, Zig Ziglar, Anita Roddick, Peter Drucker, Malcolm Forbes, Sam Walton, Lee Iacocca, Henry Ford, Walt Disney, Thomas Edison, Dale Carnegie, Jim Collins, Kenneth Blanchard, and Warren Bennis. The editors and writers of FAST COMPANY have done a superb job of compiling this valuable group of essential rules that will certainly be an asset to any manager, professional, or executive-to-be.
(This book review was originally published in 2005 as one of the Top 10 Books – Edition 13.)
Harry K. Jones is a motivational speaker and consultant for AchieveMax®, Inc., a company of professional speakers who provide custom-designed seminars, keynote presentations, and consulting services. Harry's top requested topics include change management, customer service, creativity, employee retention, goal setting, leadership, stress management, teamwork, and time management. For more information on Harry's presentations, please call 800-886-2629 or fill out our contact form.