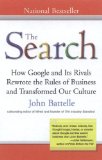 The Search: How Google and Its Rivals Rewrote the Rules of Business and Transformed Our Culture

by John Battelle
Upon completion of The Google Story, you'll probably feel as though you've just returned from the Land of Oz via the fabled Yellow Brick Road after befriending each and every one of those loveable characters. Upon completion of The Search, you'll definitely feel as though you're back in the black and white version of Dorothy's Kansas, and you can taste the sand in your mouth. That's not necessarily a bad thing. Many will appreciate hearing the yin-yang explanations of a growing phenomenon that is destined to touch the lives of just about everyone in one way or another.
This black-and-white, cut-and-dried, no-nonsense, very ambitious text comes with a strong pedigree. Author John Battelle knows of what he speaks. He is a co-founding editor of Wired and the founder of The Industry Standard, as well as TheStandard.com. He's also a columnist for Business 2.0, and the founder, chairman, and publisher of Federated Media Publishing. No one is better qualified to explain this entire phenomenon than Battelle who has devoted his career to finding the holy grail of technology—and he has finally found it in "search."
The Search is a sweeping survey of the history of Internet search technologies, its gossip about and analysis of Google, and its speculation on the larger cultural implications of a web-connected world. However, The Search offers much more than the inside story of Google's triumph. The author also includes chapters on "Search, Before Google" and the "Who, What, Where, Why, When. And How (Much)" of search. It's also a big-picture book about the past, present, and future of search technology, and the enormous impact it is starting to have on marketing, media, pop culture, dating, job hunting, international law, civil liberties, and just about every other sphere of human interest.
The author draws on more than 350 interviews with major players from Silicon Valley to Seattle to Wall Street, including Google cofounders Larry Page and Sergey Brin and CEO Eric Schmidt, as well as competitors like Yahoo, Alta Vista, Excite, Lycos, and other pioneers. Battelle clearly reveals how search technology actually works, explores the amazing power of targeted advertising, and reports on the frenzy of the Google IPO, when the company tried to rewrite the rules of Wall Street and declared "don't be evil" as its corporate motto.
This book, like The Google Story, will earn a coveted spot on many reputable reading lists. The motives, however, may differ considerably. This publication will draw the attention of the likes of Bill Gates, almost every venture capitalist and startup-hungry entrepreneur in Silicon Valley and a variety of business people, technology futurists, journalists, and interested observers of the concept of Internet search. There are times when the author's descriptions of Internet search technology can get too technical for readers without a computer science background; the book is a deeply researched and nimbly reported look at how search has defined the Internet and how it will continue to be a tremendous reflection of culture.
(This book review was originally published in 2005 as one of the Top 10 Books – Edition 13.)
Harry K. Jones is a motivational speaker and consultant for AchieveMax®, Inc., a company of professional speakers who provide custom-designed seminars, keynote presentations, and consulting services. Harry's top requested topics include change management, customer service, creativity, employee retention, goal setting, leadership, stress management, teamwork, and time management. For more information on Harry's presentations, please call 800-886-2629 or fill out our contact form.