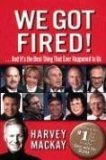 We Got Fired!: … And It's the Best Thing That Ever Happened to Us

by Harvey Mackay
I'm old enough to remember that getting fired was something shameful and didn't happen that often in one's career. When it did happen, one could almost expect dark feelings of depression, doubts of your economic worth, and serious damage to your self-esteem. Today, it's difficult to keep score of the many victims of downsizing, right-sizing, global competition, off-shoring, mergers, acquisitions, consolidations, restructuring, reorganizations, bankruptcies, and out-sourcing. It's no longer a disgrace to get fired. However, it still must be dealt with.
You're not going to find any life-changing information in this book. In fact, you'd get much of the same advice from your local outplacement consultant or firm. What you will get is an entertaining and enlightening read from one of the world's best-selling motivational and business authors, Harvey Mackay. In fact, you'll probably enjoy a good number of smiles, a warm feeling or two, and maybe even a little motivation to get back into the race. If anyone can do that, it's Mackay. He's the author of four New York Times bestsellers, two of which are listed by The New York Times among the top fifteen inspirational business books of all time (Swim with the Sharks Without Being Eaten Alive and Beware the Naked Man Who Offers You His Shirt). He's a nationally syndicated columnist for United Feature Syndicate, writing weekly articles which appear in more than 50 newspapers across the country. He's one of America's most popular and entertaining business speakers and is the chairman of Mackay Envelope Company, a $100 million company he founded at age 26.
Amidst the humor, inspiration, and survival tactics, the author shares some eye-opening "cold truths," such as:
"If you are under thirty, the likelihood that you will be fired in the next twenty years is 90 percent."
"The nicest, most loyal, and most submissive employees are often the easiest people to fire."
"The time to start worrying about what you'll do when you're fired is the day you get hired."
This combination of interviews and short essays could also serve to introduce you to many of the realities of business life, such as the fact that today no one is immune to bad judgment and backstabbing. Mackay shares the stories of a variety of people from all walks of life who share one common thread. Although they all lost their jobs, none of them saw themselves as victims for very long. They share their stories and their abilities to bounce back. This book is hopeful, tough-minded and filled with indispensable advice. At the end of each chapter, you'll be exposed to another of Mackay's Morals, a great collection of brief, remarkably quotable life slogans. Frankly, the survival tactics below from the people sharing their wisdom as well as Mackay himself should be taught at new employee orientations so people don't fall victim to the fantasy that their employers will provide them lifelong security.
Listed below are just a few of the many contributors to what should be the next addition to your personal and/or business library.
Larry King (CNN TV host)
Michael Bloomberg (mayor of New York City)
Billy Jean King (pro tennis champion)
Jesse Ventura (former Minnesota governor)
Joe Torre (New York Yankees manager)
Mark Victor Hansen (co-author of Chicken Soup series)
Robert Redford (actor and director)
Lee Iacocca (former Chrysler Chairman and CEO)
Muhammad Ali (3-time world boxing champ)
Jamie Dimon (Bank One Chairman and CEO)
Mannie Jackson (Owner and CEO of Harlem Globetrotters)
Tom Stemberg (Founder of Staples)
Bernie Marcus (Founder of Home Depot)
Lou Holtz (football coach)
Pat Mitchell (CEO of PBS)
Donald Trump (real estate mogul)
… and many others
(This book review was originally published in 2005 as one of the Top 10 Books – Edition 14.)
Harry K. Jones is a motivational speaker and consultant for AchieveMax®, Inc., a company of professional speakers who provide custom-designed seminars, keynote presentations, and consulting services. Harry's top requested topics include change management, customer service, creativity, employee retention, goal setting, leadership, stress management, teamwork, and time management. For more information on Harry's presentations, please call 800-886-2629 or fill out our contact form.