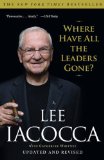 Where Have All the Leaders Gone?

by Lee Iacocca with Catherine Whitney
You've simply got to read this one! I truly feel sorry for those who will avoid this book because they don't like and/or respect Lee Iacocca. A lot of people I know fall into one or both of those categories, and I'm certain they feel justified to feel as they do. However, they're doing themselves a disservice. They're going to miss some great humor, fantastic insight, decades of solid experience, shocking facts, engaging stories and unbelievably straight talk.
Several critics greeted the author's most recent literary effort with charges of senility. They can't believe his criticism of politicians and business leaders the world over. I think those critics are simply blind to the fact that Iacocca has nothing to lose by speaking his mind and calling things as he sees them. He owes nothing to no one and answers no one other than himself. You don't have to like the author, and you certainly don't have to agree with him. However, there is much to learn from his experience.
This isn't a man who's inherited his legacy, benefited from a streak of luck, or cut corners to achieve an unequaled track record:
He created the Mustang for Ford Motor Company, leading to his eventual firing over a power struggle with Henry Ford.
He joined Chrysler as President and CEO shortly after Chrysler reported its worst earnings ever. He went on to restore Chrysler through shrewd financial policies, a $1.2 billion loan guarantee, and tax concessions granted by Congress. By the way, he repaid the loan in record time and masterminded the Minivan as though he had some extra time.
He almost bought out Ford and turned down a nomination for President of the United States!
In the 1980s, at the request of President Reagan, he spearheaded the campaign to refurbish the Statue of Liberty and Ellis Island, raising over $500 million to do so.
He also engineered Chrysler's $1.5 billion acquisition of American Motors, creating the Big Three from a mild-mannered four.
The Iacocca Foundation recently announced the opening of its Los Angeles office. The Los Angeles office will help coordinate JoinLeeNow (www.joinleenow.org), an $11 million fundraising initiative to bring a potential cure for type 1 diabetes to human clinical trials. He has dedicated himself to this cause since the death of his wife in 1983 from complications of diabetes.
This man hasn't had time to slip into senility. He's been much too busy engineering what appears to be nothing less than a much needed national enema! He starts his campaign with his photo on the cover of the book. There he stands in his trend-setting solid black collarless golf shirt under an American-flag-decorated black sport coat, casually holding a giant cigar as he grins impishly at the readers. He reeks confidence and wisdom as he poses the question, "Where Have All The Leaders Gone?"
Iacocca grabs you by the throat on page one and doesn't let you take a breath until he closes on page 263 with a challenging question you're certain he's directing to you personally!
He takes on President George W. Bush and his administration in an issue by issue autopsy of the many sins committed over the past seven years. In all fairness, he then offers his no-nonsense, straight-up assessments of the politicians vying to replace Bush in 2008. He certainly doesn't mince words as he evaluates the front-runners from both parties.
His suggestions are simplistic but extremely powerful as he stresses we return to our focus on people and priorities. For instance, he calls for all presidential candidates to reveal their Cabinet choices BEFORE the election so voters can evaluate the team and not just the man.
Iacocca quickly focuses on the rapid demise of leadership in our country from politicians and business leaders to educational advisers and military commanders.
He tackles the national issues we're all concerned about such as Iraq/Iran, the health-care crisis, our loss of competitive edge in the global marketplace, the massive trade deficit, a border that is a sieve, the slow death of the middle class, jobs, education, and energy policy. Iacocca then goes on to provide clear and credible recommendations for each of these problems based on his decades of observation and personal experience as a leader. Now 82, he has seen the U.S. overcome some of its worst crises, including the Great Depression and World War II, through great leadership. He shares his desire and recommendation that we return to that strategy.
The book opens with a discussion of the nine C's of leadership: Curiosity, Creativity, Communicator, Character, Courage, Conviction, Charisma, Competency, and Common Sense. He defines each element and discusses how they impact leadership in all walks of life. He shares both negative and positive examples from today's headlines focusing on the presence or absence of each element and the consequences which follow.
With a reputation as a straight shooter, he hopes to inspire more young people to vote. This is a surprisingly outspoken take on the pressing need for real leadership in this country.
The book closes with a discussion of four traits he learned from others: Optimism; Common Sense; Discipline; and―from his mother―Love.
You'll enjoy the excellent societal insights from a man historians will long recognize as one our greatest leaders!
(This book review was originally published in 2007 as one of the Top 10 Books – Edition 16.)
Harry K. Jones is a motivational speaker and consultant for AchieveMax®, Inc., a company of professional speakers who provide custom-designed seminars, keynote presentations, and consulting services. Harry's top requested topics include change management, customer service, creativity, employee retention, goal setting, leadership, stress management, teamwork, and time management. For more information on Harry's presentations, please call 800-886-2629 or fill out our contact form.