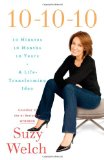 10-10-10: A Life-Transforming Idea

by Suzy Welch
Prior to reviewing this transformative new approach to decision making, let me tell you a little bit about the author. Many know her as the wife of former GE CEO Jack Welch and co-author, with her husband, of the number one bestseller Winning.
However, Suze Welch is a noted journalist, author, and speaker as well as a work-life columnist for O, The Oprah Magazine. She also serves as an Executive in Residence at Babson College's Center for Women's Leadership and is the former editor of the Harvard Business Review.
While her concept is very simple, it is also a powerful philosophy and very practical guide to decision making in the realms of career, business, leadership, romance, health, friendship, marriage, and family.
Instead of acting on impulse or instinct alone, as so many of us often do, this guide to life management suggests we ask what impact a decision or action will have in 10 minutes, 10 months, and 10 years.
The process is clear, explicit, and distinct. In fact, when you're facing a dilemma, all it takes to begin are three questions:
What are the consequences of my decision in 10 minutes?
What are the consequences of my decision in 10 months?
What are the consequences of my decision in 10 years?
Every time you use the process, you must start by posing your dilemma, crisis, or challenge in the form of a question. Should I buy a house right now or continue to rent for a while? Is it time for a new car or do I stick with my old ride for another year or two? Do I take that new job offer or play it safe?
The next stage of the process is data collection … in your head, on your computer, with pen and paper, or in conversation with someone you trust—whatever works best for you. Just make certain that you're totally honest and exhaustive in answering each of the above questions.
To be clear, the first question means "right now"—a minute, a day or a week!
The second 10 represents a point in the forseeable future when the initial reaction to your decision has passed but the consequences continue to play out in ways you can reasonably predict. The third 10 stands for a time in the future that's so far off that its particulars are entirely vague at the moment.
So, in short, the process is meant to suggest time frames along the lines of: "in the heat of the moment," "somewhat later," and "when all is said and done."
And, finally, the last step of the process is analysis.
Take all of the information you collected in your data collection stage and compare it to your innermost values—your beliefs, goals, dreams, and needs.
In short, this part of the 10-10-10 process requires you to ask: "Knowing what I now know about all of my options and their consequences, which decision will best help me create a life of my own making?"
Your answer to that question is your solution.
Sound simple? Not quite.
The author shares examples from her own life and the lives of many others who use the process, revealing how exploring the impact of our decision in multiple time frames invariably surfaces our unconscious agendas, fears, need and desires—and ultimately helps us identify and live according to our deepest goals and values.
In this revealing book, Suzy Welch explains the power of this transformative idea that can replace chaos with consistency, guilt with joy, and confusion with clarity!
Harry K. Jones is a motivational speaker and consultant for AchieveMax®, Inc., a company of professional speakers who provide custom-designed seminars, keynote presentations, and consulting services. Harry's top requested topics include change management, customer service, creativity, employee retention, goal setting, leadership, stress management, teamwork, and time management. For more information on Harry's presentations, please call 800-886-2629 or fill out our contact form.