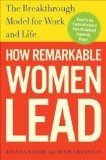 How Remarkable Women Lead: The Breakthrough Model for Work and Life

by Joanna Barsh and Susie Cranston
Let me begin by warning you not to be taken in by the title: men have as much to learn from this book as women. In fact, I can think of a number of males in leadership roles that I plan to recommend this book to.
Over the years, I've had the opportunity and privilege to work with many remarkable women leaders. I know from personal experience that the talent, experience, creativity, tenacity, dedication, and outcomes of these woman in leadership roles have contributed tremendously to the success of so many outstanding organizations in every industry.
The book's 368 pages are based on five remarkable years of proprietary research by co-authors Joanna Barsh and Susie Cranston … both McKinsey & Company consultants. The authors establish the links between joy, happiness, and distinctive performance with the groundbreaking model of Centered Leadership.
A number of personal stories and related insights demonstrate the magic which occurs when you put the five elements of Centered Leadership—meaning, framing, connecting, engaging, and energizing—to work.
I especially enjoyed the interviews with top executives who have proven themselves under very competitive and challenging circumstances. They include:
Andrea Jung, the CEO of Avon, who fired herself on Friday and re-emerged on Monday as the "new" turnaround CEO.
Eileen Naughton, who lost her dream job but landed on her feet at Google to emerge as a formidable leader.
Ruth Porat who successfully coped with personal and professional times at Morgan Stanley.
These interviews and others (Xerox's Anne Mulcahy, former Quantas chairman Margaret Jackson, and orchestra leader Alondra de la Parra to name a few) provide both insight and inspiration to any potential or current leader facing today's enormous challenges. It was indeed interesting to hear from some of the most accomplished women leaders in the world and enlightening to hear that they had their moments of crisis, self doubt and mistakes. They learned from these moments and used them to build their future.
I often get a personal "feel" for a book's offering by browsing chapter titles. I found this particular offering intriguing in a number of chapter areas. Here's a short sample of what to expect.
It All Begins with Meaning
Your Own Happiness Equation
Start with Your Strengths
Dreamcatcher
Matter of Framing
Your Organization as Family
The Tapestry You Weave
Make Your Own Luck
Weathering the Heights
Energy in Your Toolkit
Some chapters better apply to women starting out in their careers, while others focus on the seasoned female leader. How Remarkable Women Lead is a great read, with real insights and actionable ideas!
It's both a roadmap as well as an accessible workbook into the mechanisms that govern the lives of women leaders.
How Remarkable Women Lead: The Breakthrough Model for Work and Life
is available from Amazon. The AchieveMax® company is an affiliate of Amazon.com.
Harry K. Jones is a motivational speaker and consultant for AchieveMax®, Inc., a company of professional speakers who provide custom-designed seminars, keynote presentations, and consulting services. Harry's top requested topics include change management, customer service, creativity, employee retention, goal setting, leadership, stress management, teamwork, and time management. For more information on Harry's presentations, please call 800-886-2629 or fill out our contact form.