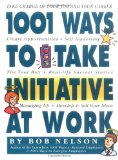 1001 Ways to Take Initiative at Work

by Bob Nelson
Here is the third in Nelson's 1001 Ways Series. Whether you're an entry-level assistant or a VP working with the CEO, there's only one person responsible for your career—you.
This unique motivational manual will help you realize your potential for success. This book brings together hundreds of real-life examples, advice from business leaders, and the author's own techniques and exercises to show readers how to draw on inner creativity, develop self-leadership, set goals, take risks, and sell ideas. Learn how to take action, question authority, think outside the box and trust your intuition in this practical, timely book that will make an excellent addition to any business library.
(This book review was originally published in 2000 as one of the Top 10 Books – Edition 3.)
Harry K. Jones is a motivational speaker and consultant for AchieveMax®, Inc., a company of professional speakers who provide custom-designed seminars, keynote presentations, and consulting services. Harry's top requested topics include change management, customer service, creativity, employee retention, goal setting, leadership, stress management, teamwork, and time management. For more information on Harry's presentations, please call 800-886-2629 or fill out our contact form.