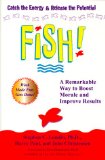 Fish! A Remarkable Way to Boost Morale and Improve Results

by Stephen C. Lundin, Ph.D., Harry Paul, and John Christensen
Here's another management parable in the spirit of Raving Fans, Gung Ho!, and Who Moved My Cheese? Fish! draws its lesson from an unlikely source—the fun-loving fishmongers at Seattle's Pike Place Market.
The authors have done a masterful job of capturing the essence of how to infuse any workplace with high energy, positive attitudes, and a passion for performance. This book is destined to become the authority on how to change the workplace into a powerhouse of productivity, personal satisfaction, and bottom-line performance. Fish! offers wisdom that is easy to grasp, instantly applicable, and profound—the hallmarks of a true business classic!
(This book review was originally published in 2000 as one of the Top 10 Books – Edition 3.)
Harry K. Jones is a motivational speaker and consultant for AchieveMax®, Inc., a company of professional speakers who provide custom-designed seminars, keynote presentations, and consulting services. Harry's top requested topics include change management, customer service, creativity, employee retention, goal setting, leadership, stress management, teamwork, and time management. For more information on Harry's presentations, please call 800-886-2629 or fill out our contact form.