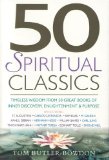 50 Spiritual Classics: Timeless Wisdom from 50 Great Books on Inner Discovery, Enlightenment and Purpose

by Tom Butler-Bowdon
This is the last in Tom Butler-Bowdon's acclaimed trilogy. It's a very unique collection of the very best spiritual works that have stood the test of time. Tom has brought together the world's classic spiritual writings in one volume. Spanning countries, centuries, spiritual traditions and secular beliefs, the selections in this collection are breathtaking in range.
This obvious kaleidoscope of inspiration lets the reader delve into the ideals that can enrich the mind and heal the soul.
Here are just a few of the classics you'll find in this edition:
The Purpose-Driven Life by Rick Warren
Jonathan Livingston Seagull by Richard Bach
The Prophet by Kahlil Gibran
Doors of Deception by Aldous Huxley
Varieties of Religious Experience by William James
A Simple Path by Mother Teresa
The Screwtape Letters by C.S. Lewis
The Razor's Edge by W. Somerset Maugham
The Road to Mecca by Muhammad Asad
Confessions by St. Augustine
The Tao of Physics by Fritjof Capra
St. Francis of Assisi by G.K. Chesterton
Markings by Dag Hammarskjold
The Seat of the Soul by Gary Zukav
A Course in Miracles by Schucman and Thetford
Autobiographies of:
Malcolm X
Mohandas Gandhi
Paramahansa Yogananda
(This book review was originally published in 2005 as one of the Top 10 Books – Edition 14.)
Harry K. Jones is a motivational speaker and consultant for AchieveMax®, Inc., a company of professional speakers who provide custom-designed seminars, keynote presentations, and consulting services. Harry's top requested topics include change management, customer service, creativity, employee retention, goal setting, leadership, stress management, teamwork, and time management. For more information on Harry's presentations, please call 800-886-2629 or fill out our contact form.