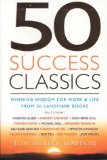 50 Success Classics: Winning Wisdom for Life and Work from 50 Landmark Books

by Tom Butler-Bowden
Here we have the same author (as 50 Self-Help Classics) utilizing the same format to introduce us to 50 of the most important and inspiring books that already have helped legions of readers unleash their potential and discover the secrets to success in work and life.
In this collection, you'll find such classics as:
See You at The Top by Zig Ziglar
Who Moved My Cheese? by Spencer Johnson
The Spirit to Serve by J.W. Marriott Jr.
Unlimited Power by Anthony Robbins
Magic of Thinking Big by David Swartz
Maximum Achievement by Brian Tracy
The Art of War by Sun Tzu
Straight from the Gut by Jack Welch
The Luck Factor by Richard Wiseman
Think and Grow Rich by Napoleon Hill
Ragged Dick by Horatio Alger
On Becoming a Leader by Warren Bennis
One-Minute Manager by Blanchard & Johnson
Good to Great by Jim Collins
Acres of Diamonds by Russell Conwell
Direct from Dell by Michael Dell
How to Be Rich by John Paul Getty
Official Guide to Success by Tom Hopkins
Biographies of:
Andrew Carnegie
Henry Ford
Warren Buffett
Abraham Lincoln
Nelson Mandela
Eleanor Roosevelt
Sam Walton
(This book review was originally published in 2005 as one of the Top 10 Books – Edition 14.)
Harry K. Jones is a motivational speaker and consultant for AchieveMax®, Inc., a company of professional speakers who provide custom-designed seminars, keynote presentations, and consulting services. Harry's top requested topics include change management, customer service, creativity, employee retention, goal setting, leadership, stress management, teamwork, and time management. For more information on Harry's presentations, please call 800-886-2629 or fill out our contact form.