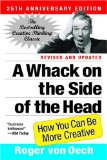 A Whack on the Side of the Head: How You Can Be More Creative

by Roger von Oech
Although first published in the early '80s, this masterpiece has been enhanced and revised three times to provide cutting-edge approaches to becoming more creative in both your business and personal lives. It's back—and better than ever—with more bright ideas and expanding exercises to bring its famous innovation boosters to a new generation.
Identifying the fundamentals of creative thinking, this book evolves around the ten mental locks that prevent you from being more creative. More importantly, you'll learn how to unlock each as von Oech devotes an entire chapter to each of the ten while providing various exercises in support of his explanations.
Over the last two decades, the author has conducted a number of creativity workshops working with imaginative people in a variety of industries and disciplines. This book contains stories, anecdotes, insights, and ideas that evolved from those workshops.
This book should be read in combination with A Kick in the Seat of the Pants … and preferably read first. Just a suggestion. This is a book you'll refer to often after your initial exposure.
(This book review was originally published in 2000 as one of the Top 10 Books – Edition 5.)
Harry K. Jones is a motivational speaker and consultant for AchieveMax®, Inc., a company of professional speakers who provide custom-designed seminars, keynote presentations, and consulting services. Harry's top requested topics include change management, customer service, creativity, employee retention, goal setting, leadership, stress management, teamwork, and time management. For more information on Harry's presentations, please call 800-886-2629 or fill out our contact form.