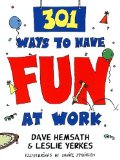 301 Ways to Have Fun at Work

by Dave Hemsath and Leslie Yerkes
It's quite obvious that any employee would like to have more fun at work. However, it's a little more of a challenge to convince management that creating a fun atmosphere in the workplace can increase productivity and morale while having a positive effect on the bottom line. In this fun-filled book, the authors will tell you how to do just that.
It's one thing to have someone offer you their suggestions for improvement. In this book, however, the authors share examples from hundreds of companies that have found a wide variety of methods for focusing on fun within the work environment. They've developed Fun Icons which lead you through the book by identifying fun facts, fun resources, and fun quotes. They have included their twelve-step method to fun which they suggest you follow by implementing one step a month for a year.
They also offer a list of suggested readings—books they highly recommend for your reading pleasure and to aid you in your pursuit of fun at work.
(This book review was originally published in 2000 as one of the Top 10 Books – Edition 5.)
Harry K. Jones is a motivational speaker and consultant for AchieveMax®, Inc., a company of professional speakers who provide custom-designed seminars, keynote presentations, and consulting services. Harry's top requested topics include change management, customer service, creativity, employee retention, goal setting, leadership, stress management, teamwork, and time management. For more information on Harry's presentations, please call 800-886-2629 or fill out our contact form.