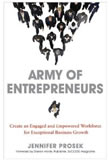 Army of Entrepreneurs: Create an Engaged and Empowered Workforce for Exceptional Business Growth

by Jennifer Prosek
I think you're not only going to enjoy this book but will find it a tremendous asset as a Start Now—Get It Done—Step-by-Step Guidebook to transforming your organization, regardless of size, into a true Army of Entrepreneurs focused on exceptional business growth.
I enjoyed it for a number of obvious reasons:
The author, Jennifer Prosek, shares not only what she knows but, more importantly, what she's actually done as the founder and CEO of CJP Communications, an international public relations and financial communications consultancy with offices in New York, Connecticut and London. Much of the advice she shares has led her to be named an "Emerging Power Player" by PR Week Magazine. In addition, her organization was named "Small Agency of the Year" and was recognized as one of the "Top Places to Work in PR"!
She focuses on teaching readers how to insure that every employee becomes a powerful force for growth within an organization. This is so obviously a source of great potential for the majority of businesses in today's chaotic and competitive environment—one that is so very often overlooked.
Jennifer provides a very clear game plan for building a workforce dedicated to generating new business, creating breakthrough products and services, and sustaining growth. I especially enjoyed the fact that, at the end of each chapter, she offered "Six Steps Forward," which is advice as to what should be done immediately upon the completion of that particular chapter.
A number of interesting anecdotes and case studies also enhance clarification of key points throughout the text.
The author provides additional resources in the area of books, publications, national and global events, a list of well-regarded MBA programs, as well as thinking from top consulting firms.
Statistics, research, and commentary from experts in the business community adds foundational credibility to this powerful business model.
The author focuses on areas which are instrumental to organization growth and success in a way which is easily understood and motivational in its presentation:
the necessity of proper training and an unusual method which has proven to be successful (finder, minder, binder, grinder).
the creation of a Talent Pipeline resulting from successful recruiting and retention tactics.
technology as a communications strategy.
the necessity and action plan for measuring success (why, when, what, how, and the tools required).
the strategy of finding and training your future leaders.
tips, tools and strategies for maintaining your momentum.
managing disasters which may occur.
bringing everything together … dealing with doubts, problems and mistakes which may face any organization in the pursuit of growth and success.
At the conclusion of her book, she poses 10 thought-provoking questions for anyone who is ready to amass their own Army of Entrepreneurs. Answers provided to these key questions will certainly separate the talkers from doers!
At a time when old management models are falling by the wayside, this book will show you how to invest in your employees, play to their strengths, and engage them in your business as you pursue growth and success. This formula will work if YOU do!
Army of Entrepreneurs: Create an Engaged and Empowered Workforce for Exceptional Business Growth
is available from Amazon. The AchieveMax® company is an affiliate of Amazon.com.
Harry K. Jones is a motivational speaker and consultant for AchieveMax®, Inc., a company of professional speakers who provide custom-designed seminars, keynote presentations, and consulting services. Harry's top requested topics include change management, customer service, creativity, employee retention, goal setting, leadership, stress management, teamwork, and time management. For more information on Harry's presentations, please call 800-886-2629 or fill out our contact form.