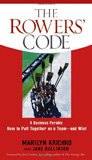 The Rowers' Code: A Business Parable of How to Pull Together as a Team – and Win!

by Marilyn Krichko with Jane Rollinson
I've got to be honest here in saying that I struggled a bit when I first heard about a book that shared a rowing metaphor to present a simple actionable set of truths about teamwork and communication that can be applied to every workplace scenario to supercharge performance.
However, once into the content, it made perfect sense. In fact, I was amazed at the similarities which exist between a rowing team and a workplace team as they face the daily challenges which stand between them and their ultimate goal.
The authors are both avid rowers who boast impressive business credentials as well. Marilyn Krichko was formerly an executive at a Swedish paper company and now enjoys a successful career as a corporate consultant. Jane Rollinson has held high-level board and executive positions at major healthcare companies.
This book is based on an overwhelming response to more than a decade of successful workshops based on the Rower's Code. Its 26 chapters will teach you how to use the seven steps of the Rower's Code to:
Tap into the strength of peers.
Maintain synchronicity with other members of your team.
Work through issues directly with teammates.
Personalize and powerfully leverage change.
Unleash the effectiveness of the workgroup.
Succeed in an increasingly competitive business landscape.
The authors provide an array of helpful elements that certainly enhance reader comprehension of key concepts:
At the end of each chapter, the authors provide a combination of summary and key concepts which I found very helpful.
They also provide a nine-page team assessment designed to help you evaluate the current state of your own team. You can complete the questionnaire in the book or online as a team on their website where they will tabulate your results and send you a report.
You can also visit their website to print and display Rower's Code posters and bookmarks, print pages featuring helpful tips and tools, sign up for their free newsletter, and enjoy their blog.
I strongly suggest you get into the boat with the authors and step up to the challenge of The Rower's Code.
The Rowers' Code: A Business Parable of How to Pull Together as a Team – and Win!
 is available from Amazon. The AchieveMax® company is an affiliate of Amazon.com.
Harry K. Jones is a motivational speaker and consultant for AchieveMax®, Inc., a company of professional speakers who provide custom-designed seminars, keynote presentations, and consulting services. Harry's top requested topics include change management, customer service, creativity, employee retention, goal setting, leadership, stress management, teamwork, and time management. For more information on Harry's presentations, please call 800-886-2629 or fill out our contact form.