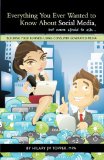 Everything You Ever Wanted to Know About Social Media, but were afraid to ask …: Building Your Business Using Consumer Generated Media

by Hilary JM Topper
I've never had the honor of being mistaken for a "techy" … nor will I be in the future. In fact, I'm probably as far from being a "techy" as one can possibly be.
About four years ago, I was invited to speak at a major conference for Realtors from several neighboring states. As is my usual behavior, I sat in on several of the break-out sessions in hopes of enhancing my knowledge base. One of the speakers informed the audience of a new technology that was growing very rapidly and would soon be known and used nationally to communicate among its millions of followers. It was called "Twitter," and the rest is history.
Of course, with my limited knowledge of social media, "Twitter" fell into the same category as "MyFace" and "Spacebook" for me. Obviously, "Twitter" was the only one I could even pronounce properly! If only Hilary JM Topper had published her basic social media 101 book at that time! It would have solved a lot of problems for me and millions of others. However, don't let me mislead you as the author has written this helpful guide for both non-technical and Internet-savvy readers.
In a mere 172 pages, Hilary provides some insight into a host of various web sites … many you have probably never heard of. She describes each site and, based on a great deal of research, shares the pros and cons of each as well as techniques to best tap the full potential of every site.
At the conclusion of each chapter, the author shares her personal insights in a short summary she calls "My 2 Cents." I found these comments to be very helpful indeed.
If you're looking for the fastest was to communicate your ideas today, you'd better be investigating in social media. In this revealing guide, the author will:
Describe how to use social media sites, blogs, and microblogs.
Review more than a dozen social networking sites.
Provide an understanding of the importance of podcasts and video podcasts.
Discuss what it means to "Go Viral."
Give suggestions for handling crisis situations via the Web.
Are you familiar with Brightkite.com, Bebo.com, FriendFeed.com, hi5.com, Identi.ca, koornk.com, Plaxo.com, Plurk.com, Spoke.com, Tumblr.com, Yammer.com, or YouAre.com? Well, you will be after finishing this useful guide, and you'll more than likely be much more familiar with more common sites such as Facebook, Flickr, LinkedIn, YouTube, and Twitter.
Get the most out of social networking, whether your goal is to cultivate an online following, build a business, reach new markets or find quick and useful information. This book will certainly assist you in meeting your needs.
Harry K. Jones is a motivational speaker and consultant for AchieveMax®, Inc., a company of professional speakers who provide custom-designed seminars, keynote presentations, and consulting services. Harry's top requested topics include change management, customer service, creativity, employee retention, goal setting, leadership, stress management, teamwork, and time management. For more information on Harry's presentations, please call 800-886-2629 or fill out our contact form.