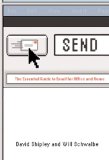 Send: The Essential Guide to Email for Office and Home

by David Shipley and Will Schwalbe
The world's first e-mail message was sent in 1971 by Ray Tomlinson.
171 billion e-mails are sent each day, meaning almost 2 million e-mails are sent every second!
The New York Times reports that 62% of all e-mail is spam and about 10% contains viruses.
Unsolicited e-mail earned the name "spam" because it resembled a Monty Python skit where a chorus of Vikings drowned out other sounds by singing "spam, spam, spam."
The time spent deleting spam costs United States businesses $21.6 billion annually.
The Productivity Institute of Stratford, Connecticut, reports that the average person today receives around 150 communications each day via e-mail, phone, hard mail, memos, circulars, faxes, etc.
Communication consists of 55% facial expression and body language.
Communication consists of 38% voice inflection.
Communication consists of 7% words.
Therefore, when communicating by e-mail, you lose 93% of your effectiveness.
Add those stats to the fact that the majority of us learned how to e-mail through osmosis at home or on the job, and it becomes quite evident why e-mail can cause major problems, misunderstandings, and hard feelings on a regular basis. This book will most likely be your first introduction to the do's and don'ts of proper e-mail etiquette.
The name of this book is actually an acronym derived from an easy, four-question checklist designed to help you determine whether you should hit the Send key after composing your e-mail.
S stands for Simple.
E stands for Effective.
N stands for Necessary.
D stands for Done.
In the spirit of revealing how little we actually know about the fine art of proper e-mailing, take a look at some of what you'll learn within a mere 228 pages:
A Brief History of E-mail
The Anatomy of an E-mail
The Six Essential Types of E-mail
How to Write (the Perfect) E-mail
The Emotional E-mail
The Eight Deadly Sins of E-mail
The Seven Big Reasons to Love E-mail
Eight Reasons You May Not Want to E-mail
Six Reasons to Send a Letter Instead of an E-mail
Three Reasons to Send a Fax Instead of an E-mail
The Seven Reasons to Use the Telephone Instead of E-mail
The Five Reasons to IM and Text Instead of E-mail
Big Moments in E-mail History
The Anatomy of an E-mail
The Politics of Cc
The ABC's of Cc's and Bcc's
The Eleven Most Common Types of Attachments
The Six Essential Types of E-mail
The E-mail That Can Land You in Jail
(This book review was originally published in 2007 as one of the Top 10 Books – Edition 16.)
Harry K. Jones is a motivational speaker and consultant for AchieveMax®, Inc., a company of professional speakers who provide custom-designed seminars, keynote presentations, and consulting services. Harry's top requested topics include change management, customer service, creativity, employee retention, goal setting, leadership, stress management, teamwork, and time management. For more information on Harry's presentations, please call 800-886-2629 or fill out our contact form.