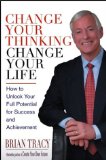 Change Your Thinking, Change Your Life: How to Unlock Your Full Potential for Success and Achievement

by Brian Tracy
Here's another book focusing on the obvious. We've heard it all before. In fact, as stated on the inside flap of this very book, we've been hearing this message from this particular author for 30 years. My guess is we'll be hearing it from him for as long as he can speak. And speak he does. Brian Tracy is one of the top professional speakers in the world; he has given more than 2,000 presentations and addresses as many as 450,000 people each year. He's published 32 books and more than 300 audio and video learning programs. And now, believe it or not, he has thrown his hat into the ring for the Governorship of California! He continues to spread his message because he believes it; he has lived it successfully for decades, and has helped thousands of others learn how to set goals, expand their thinking, and reach their full potential.
His message is simple but tremendously powerful. What you think has a profound effect on what you do and how you do it! Your life experiences determine the way you think. But your thoughts aren't set in stone. Just like you can learn to ride a bike or play chess, you can also learn to control your thinking, and in turn, control your life. Henry Ford may have said it best decades ago when he told his staff: "Whether you think you can or think you can't … you're absolutely right!"
Tracy continues to hammer home this simple philosophy: Change Your Thinking—Change Your Life. He offers a framework, based on 12 powerful principles, that will help anyone get on the road to a better, more fulfilling professional and personal life. Tracy offers a proven plan for transforming your life by changing the way you think about yourself and your potential.
Each chapter offers inspirational stories and principles that get you thinking, backed up with action exercises that help you train yourself to think and act like the successful person you truly are. Every principle helps you change your thinking in a positive way. Every exercise brings about a positive change in the way you see yourself, the world, and your future. Soon, you'll begin to see unlimited possibilities in your future. These principles will show individuals how to delve into their inner resources so that they can not only identify realistic goals but develop a plan on how to achieve these goals. Use the powerful "mental software" program in this book to tap your vast inner resources and bring the life you've been dreaming about into reality.
It looks as though Brian Tracy has done it again with his latest effort. Maybe the current leadership of California should adopt this philosophy before the upcoming recall election.
(This book review was originally published in 2003 as one of the Top 10 Books – Edition 12.)
Harry K. Jones is a motivational speaker and consultant for AchieveMax®, Inc., a company of professional speakers who provide custom-designed seminars, keynote presentations, and consulting services. Harry's top requested topics include change management, customer service, creativity, employee retention, goal setting, leadership, stress management, teamwork, and time management. For more information on Harry's presentations, please call 800-886-2629 or fill out our contact form.