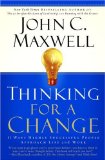 Thinking for a Change: 11 Ways Highly Successful People Approach Life and Work

by John C. Maxwell
John C. Maxwell is back again to add to his more than 30 previous titles with his encouraging tone and down-to-earth writing style. As usual he offers a very simple premise: "To do well in life, we must first think well." This certainly is not a new premise. In fact, it's been around for years, and we've heard it paraphrased by dozens of authors of note. However, as usual, Maxwell simplifies, clarifies, and guides his readers on the journey of mastering "good thinking" to achieve their personal and professional potential. Through his extensive research over the years he has found that "successful people think differently than unsuccessful people."
The author details the impact and practical value of 11 kinds of thinking:
Big-Picture Thinking
Focused Thinking
Creative Thinking
Realistic Thinking
Strategic Thinking
Possibility Thinking
Reflective Thinking
Popular Thinking
Shared Thinking
Unselfish Thinking and
Bottom-Line Thinking.
Maxwell suggests that his readers scrutinize each chapter dedicated to the various types of thinking. He then provides you the opportunity to evaluate yourself at the end of each chapter by answering the thinking question. He finally provides action steps to implement the kind of successful thinking described in each chapter.
Useful tips characterize the author's surprisingly concrete lessons. The step-by-step format is bolstered by relevant inspirational quotes, personal insights and high-profile anecdotal evidence about the likes of Priscilla Presley, George Lucas and George Washington Carver. Maxwell presents countless examples, but what makes them so relevant is that they're all based on real companies and individuals.
Ending each chapter, emphasizing the discipline needed to think your way to the top, are exercises designed to evaluate and increase your personal progress in each area.
Thinking for a Change is written for the general business market for which the author offers useful thinking methods to incorporate into your days, weeks, months and years to improve your effectiveness.
(This book review was originally published in 2003 as one of the Top 10 Books – Edition 12.)
Harry K. Jones is a motivational speaker and consultant for AchieveMax®, Inc., a company of professional speakers who provide custom-designed seminars, keynote presentations, and consulting services. Harry's top requested topics include change management, customer service, creativity, employee retention, goal setting, leadership, stress management, teamwork, and time management. For more information on Harry's presentations, please call 800-886-2629 or fill out our contact form.