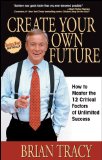 Create Your Own Future: How to Master the 12 Critical Factors of Unlimited Success

by Brian Tracy
This book is another example of what this author does best. Over the years he has studied success techniques, theories, and processes and then re-framed them with personal insights to pass on to more than 500 corporations and more than two million people in 23 countries via his books, audio tapes, seminars and keynotes.
I recently heard a critic say that Tracy has collected the most-often repeated platitudes from every other self-help book ever written and then strung them together in his own book. I'm not certain if I can find a lot of fault with that exercise. First of all, these concepts have been repeated time and time again over the years for good reason. They have been proven to work successfully when executed properly! Personally, I appreciate the fact that the author has invested years of research to collect these words of wisdom, fine-tuned them with his own experience and expertise, and put them together in a meaningful way that is easy to understand, enjoyable to read, and challenging to apply. In addition to this monumental task, Tracy has obviously walked the talk by living by the words he has shared with so many.
Brian Tracy wasn't exactly born with a silver spoon in his mouth. He left high school without graduating and worked at laboring jobs until he began asking, "Why is it that some people are more successful than others?" I'm certain many people have asked that same question. The difference lies in the fact that Tracy set out on a life-long journey to find the answers. Life rewards ACTION! What he discovered changed his life and can change yours as well.
His research led him to the obvious truth that all successful people follow a proven process. He went on to break this down into 12 critical factors that lead to unlimited success. Each of the 12 factors is absolutely indispensable for anyone who wants to achieve their full potential in a world of virtually unlimited possibilities. Tracy explains each of the factors in great detail, complete with examples and case studies that show them in action. In addition, the author gives you specific exercises that you can use immediately to implement each principle in your life.
Create Your Own Future will show you how to set goals, unlock your inborn creativity, and overcome any obstacle in your path. You'll learn how to identify the key skills you need to master your field, and how to get the support of the most important people in your work and personal lives. Tracy shows you how to take complete charge of yourself and your environment, become an expert in your field, achieve complete financial independence, and develop the habits of all high-performing men and women.
No matter what your business or occupation, you'll learn how to create your own "luck" by doing certain things every day that dramatically increase the likelihood that you will succeed at anything you attempt. You'll learn how to become the kind of person who attracts people, ideas, and opportunities that help you achieve your goals faster than ever before. As always, reading the book is not enough. Application on the part of the reader will determine whether Tracy's latest effort is a nice read of age-old platitudes or a guidebook to unlimited success! The decision is yours!
(This book review was originally published in 2002 as one of the Top 10 Books – Edition 11.)
Harry K. Jones is a motivational speaker and consultant for AchieveMax®, Inc., a company of professional speakers who provide custom-designed seminars, keynote presentations, and consulting services. Harry's top requested topics include change management, customer service, creativity, employee retention, goal setting, leadership, stress management, teamwork, and time management. For more information on Harry's presentations, please call 800-886-2629 or fill out our contact form.