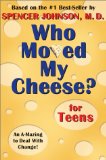 Who Moved My Cheese? for Teens

by Spencer Johnson, M.D.
Spencer Johnson has repackaged his best-selling adult classic for a teenage audience. The story is identical to the original "Who Moved My Cheese?" parable. The difference in this approach is how the story is told and by whom. In this case, the story is told by a teenage student to a group of friends after a major change has been announced to the student body. Seven friends meet in the cafeteria over lunch to discuss how the change to a three-semester program, due to over-crowding, will affect them.
After unloading their individual frustrations over the change, several of the students can't help but notice how Chris, our story-teller, seems to be handling the situation so much better than his peers. When questioned about this new-found calm, Chris offers to share a story his uncle had recently come across at work and shared with him. Chris claimed that this simple story had changed the way he looked at things in his life and dealt with the many challenges he, as a teen, must face in his daily life. At their insistence, Chris shared the story of "Who Moved My Cheese?" with his friends.
He introduced his friends to two mice (Sniff and Scurry) and two "Littlepeople" (Hem and Haw) who search for cheese in a maze and react to change in distinctly different ways ("The Cheese stands for whatever's important to you like getting on a team, having a boyfriend or girlfriend, getting into college …"). At the conclusion of the story, the friends apply the principles of the parable to their individual live scenarios. As the bell rings and they all head off to their classes, it's quite evident that the story had impacted each of them in a different way. While they didn't reveal solutions to their challenges, it was obvious that they felt better equipped to deal with life's changes and were anxious to meet again to continue their brainstorming session. Chris walks away from the informal get-together wondering how each of his friends would deal with this new-found knowledge.
The author's message about the importance of anticipating, accepting and using change to improve one's life can surely benefit this audience. Ages 10-up.
(This book review was originally published in 2002 as one of the Top 10 Books – Edition 11.)
Harry K. Jones is a motivational speaker and consultant for AchieveMax®, Inc., a company of professional speakers who provide custom-designed seminars, keynote presentations, and consulting services. Harry's top requested topics include change management, customer service, creativity, employee retention, goal setting, leadership, stress management, teamwork, and time management. For more information on Harry's presentations, please call 800-886-2629 or fill out our contact form.