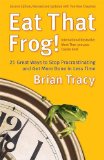 Eat That Frog!: 21 Great Ways to Stop Procrastinating and Get More Done in Less Time

by Brian Tracy
It's been said for many years that if the first thing you do each morning is to eat a live frog, you can go through the day with the satisfaction of knowing that that is probably the worst thing that is going to happen to you all day long. It's also been said, "If you have to eat two frogs, eat the ugliest one first." Your "frog" is your biggest, most important task, the one you are most likely to put off. This analogy is just one of many concepts targeted by best-selling author Brian Tracy in his latest book, Eat That Frog.
You probably know him as one of America's leading authorities on the development of human potential and personal effectiveness. We've previously reviewed his best-selling books Maximum Achievement and The 100 Absolutely Unbreakable Laws of Business Success. You may be a proud owner of his best-selling audiocassette program The Psychology of Achievement.
Now he shares the very best ideas and insights on time management in this very fast read, rich in practical advice in the form of 21 logical, immediately applicable steps. Each chapter provides specific exercises you can use to implement Tracy's advice immediately to see the results for yourself.
(This book review was originally published in 2001 as one of the Top 10 Books – Edition 7.)
Harry K. Jones is a motivational speaker and consultant for AchieveMax®, Inc., a company of professional speakers who provide custom-designed seminars, keynote presentations, and consulting services. Harry's top requested topics include change management, customer service, creativity, employee retention, goal setting, leadership, stress management, teamwork, and time management. For more information on Harry's presentations, please call 800-886-2629 or fill out our contact form.