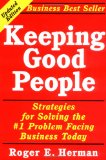 Keeping Good People: Strategies for Solving the #1 Problem Facing Business Today

by Roger E. Herman
Sounds like a pretty simple title, doesn't it? So's the book. It's a very easy read as it's written in conversational style by the recognized visionary author Roger Herman. He originally published this book in 1990, and it was featured by two book clubs and published in four languages. It has truly become a classic in the field. With 100 pages added to the original, this volume is the first major expansion and update of the popular guide.
Herman's table of contents reads better than many books I've seen on the subject of employee retention. You'll have a hard time putting this book down. Learn what good employees are looking for today and why they decide to leave an organization.
Choose from 195 strategies divided into five key areas including: environmental strategies, relationship strategies, support strategies, growth strategies, and compensation strategies. Understand why employee turnover is high today and will be higher in the future. Discover the five principal reasons workers leave their jobs. Take a sneak peek at the corporation of the future and learn the key aspects of behavior styles and leadership styles. This masterpiece is a very valuable tool for individual learning or group training.
(This book review was originally published in 2001 as one of the Top 10 Books – Edition 7.)
Harry K. Jones is a motivational speaker and consultant for AchieveMax®, Inc., a company of professional speakers who provide custom-designed seminars, keynote presentations, and consulting services. Harry's top requested topics include change management, customer service, creativity, employee retention, goal setting, leadership, stress management, teamwork, and time management. For more information on Harry's presentations, please call 800-886-2629 or fill out our contact form.