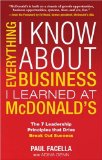 Everything I Know About Business I Learned at McDonald's: The 7 Leadership Principles that Drive Break Out Success

by Paul Facella
I must be honest here. When I began my business career decades ago, the above title would have been my very last choice for a successful business book. Who could have known?
Of course, those were the days when a McDonald's hamburger sold for 15 cents, a cheeseburger sold for 19 cents, golden french fries were only 10 cents, a Coke was just a dime, and you could get a triple-thick shake for a mere 20 cents.
Now that I've read the book, I can assure you that this book should be mandatory reading for anyone about to enter or already working in the customer service industry and anyone leading employees in hopes of providing ultimate service.
I also learned a great deal about a company I've taken for granted for years as I drove by or feasted at thousands of its Golden Arch locations from coast to coast. For instance:
McDonald's serves food to nearly 52 million people daily in 31,000 restaurants worldwide!
McDonald's has sold well over 100 billion hamburgers!
McDonald's employs more than 1.5 million people!
McDonald's operates in more than 119 countries on six continents. Antarctica is the only continent without a McDonald's!
McDonald's has also produced more millionaires from within its ranks than any company in history!
I'm not certain this particular book could have been written by anyone more qualified as company insider Paul Facella. He's one of many who started working behind the counter at age 16. Over the next 34 years, he moved from the counter to the grill to Regional Vice President. I guess you could say he practically grew up within the golden arches. As a result, he has a first-hand education living the fast-food giant's management practices and culture. He has also built strong personal ties to its legendary leaders, including founder Ray Kroc and CEOs Fred Turner, Mike Quinlan, Jack Greenberg, former President Ed Rensi, and current CEO Jim Skinner. That may have led to some of his memories seeming a bit syrupy at times, but that's understandable as he is speaking about what he considers his family and one of the great American business success stories.
The author shares seven good leadership principles that have certainly passed the test of time and, if implemented properly, should help any business … even in tough business climates like those we're facing today.
These principles are:
Honesty and Integrity: All in a Handshake.
Relationships.
Standards: Never be Satisfied.
Lead by Example.
Courage: Telling It Like It Is.
Communications.
Recognition.
Facella devotes a separate chapter to each of the seven principles, sharing examples and anecdotes supporting each.
Throughout his 226 pages, the author includes 36 valuable "Lessons" accompanied by "Food for Thought" personal observations to enlighten his readers. At the end of each chapter, he provides a brief "In Summary" recap and "Key Learnings" from that chapter.
The author also uses an interesting "one-on-one" feature to share personal insights about company executives, franchisees, and vendors. These reader-friendly devices certainly add value and insight as this book delivers an up-close-and-personal look at a company where talent is cultivated and encouraged to thrive, from the individual restaurant to the corner office.
Again, we tend to overlook how successful this organization has become as we think of it as only a local fast food restaurant. Keep in mind that seven out of the top 10 current McDonald's executives began as restaurant "crewmembers" and built their careers through the chain. In addition, Fortune magazine reveals that McDonald's revenues were greater last year than all of the following competitors combined: Burger King, Wendy's, KFC, Pizza Hut, Taco Bell, A&W, Long John Silver's, and Cracker Barrel.
Pick up a copy of Everything I Know About Business I Learned at McDonald's and learn how it achieved and managed to maintain that level of performance.
(This book review was originally published in 2009 as one of the Top 10 Books – Edition 20.)
Harry K. Jones is a motivational speaker and consultant for AchieveMax®, Inc., a company of professional speakers who provide custom-designed seminars, keynote presentations, and consulting services. Harry's top requested topics include change management, customer service, creativity, employee retention, goal setting, leadership, stress management, teamwork, and time management. For more information on Harry's presentations, please call 800-886-2629 or fill out our contact form.