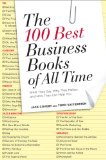 The 100 Best Business Books of All Time: What They Say, Why They Matter, and How They Can Help You

by Jack Covert and Todd Sattersten
Ok, let's get a few things straight right off the bat. Yes, this is a book about books … in fact, it's a list of books you should read if you really enjoy business books. Why do you need to invest your time and money on something like this? Well, there is good reason.
More than 1.9 million business books are now offered by Amazon, including more than 267,000 in the "business management" category. Last year, 11,000 business book were published in the U.S. Yes, 11,000 focused on business. Placed one on top of another, the stack would stand as tall as a nine-story building! Can you visualize that? And the 880 million words in that nine-story pile would take six and a half years to read. Locked somewhere in this tower of paper is the solution to your current business problem. It's that simple. However, do you have the time and money to purchase that pile and then search for that answer? Of course not, and that's where this book comes in.
It's much more than a simple list of books. It's truly informative as it gives you a quick recap of the author and content, provides fantastic insights you couldn't find elsewhere, some great one-liners, and important take-aways and sidebars.
Now, let's be realistic; anyone reading this book is going to discover books listed that they personally would not have included in their own personal list of top 100 business books. They'll also identify other titles which they feel should have been included and were not. This is typical. You can't please everyone.
The authors, Covert and Sattersten, didn't simply list their favorite books. They actually utilized a system to rate the hundreds of business books they've read and reviewed as founder and president, respectively, of 800-CEO-Read, a specialty book retailer. To choose the books in this list, the authors used a three-point criteria.
The quality of the book's idea.
The applicability of the idea to businesses today.
The accessibility of the book's writing.
They then divided the books into twelve specific categories: You, Leadership, Strategy, Sales and Marketing, Rules and Scorekeeping, Management, Biographies, Entrepreneurship, Narratives, Innovation and Creativity, Big Ideas, and Takeaways.
Within those categories, the authors waste no time in telling us the major themes of each book, why they're important for us to read, and how they can actually help us. At the end of each review, the authors direct readers to other books both inside and outside The 100 Best.
They even recommend movies that display characters with outstanding leadership characteristics, novels, and even children's books that offer equally relevant insights. Some additional treats I found interesting include:
Fresh Perspectives Not in a Bookstore Near You.
Leadership in Movies.
Conferences to Attend.
The Best Route to an Idea.
Results of a Reader's Poll.
Getting Your Bearings.
Globalization of Manners.
For Your Ears Only (podcasts).
Industry in Depth.
Choose Your Approach to Learning.
Selling on the Silver Screen.
Business Books for Kids of All Ages.
Learn from Experience (case studies).
Business Issues Found in Fiction.
At the end of the book, we're invited to visit 100bestbiz.com for more information about all of the books discussed, including chapter excerpts, interviews with authors, videos about the books, and more. I also signed up for the 800-CEO-READ Blog which provides daily updates of various kinds. This book is a valuable resource to anyone who reads for business regularly.
(This book review was originally published in 2009 as one of the Top 10 Books – Edition 20.)
Harry K. Jones is a motivational speaker and consultant for AchieveMax®, Inc., a company of professional speakers who provide custom-designed seminars, keynote presentations, and consulting services. Harry's top requested topics include change management, customer service, creativity, employee retention, goal setting, leadership, stress management, teamwork, and time management. For more information on Harry's presentations, please call 800-886-2629 or fill out our contact form.