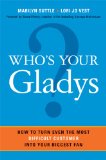 Who's Your Gladys?: How to Turn Even the Most Difficult Customer into Your Biggest Fan

by Marilyn Suttle and Lori Jo Vest
I have more than 3,400 books in my personal library. It's quite obvious I've read my share of what's been offered in book stores over the years. For our book reviews section, I've written 201 reviews of books which we feel might benefit our clients, blog subscribers, and readers.
Of the 201 reviews, 13 have thus far focused on customer service, and I can't help but note that they all share a very common thread … "Customers are the backbone of ANY business." Care of those customers should be of the utmost importance to any organization that hopes to prosper in today's challenging and very competitive marketplace. That statement is so obvious that it's almost reached a point of ad nauseam (a disgusting or ridiculous degree). If that is, indeed, true … why is it so difficult to find good customer service today?
Our co-authors both agree that when times are tough, it's the companies with exceptional customer service that survive. They then proceed to provide their readers with a blueprint on how this is accomplished by some of the most diverse and successful companies in the nation.
They use a very unique approach to accomplish this task. Every successful book must have a "hook" if it hopes to hold the attention of the reader throughout the content they offer. These talented authors took no chances inasmuch as they provided several "hooks."
The first "hook" is "Gladys". You're going to hear a lot about Gladys from cover to cover. She's actually a combination of those people who represent a company's most challenging client—the one who requires a high level of skill to manage. This person could be a man, woman, or child. They may be young or old … a long-time customer or first-time patron. We've all had to deal with this challenging person, and Gladys will probably never go away. This book will not only provide strategies to cope with Gladys but will show you how to turn "your Gladys" into a Raving Fan. Now that's a transformation that certainly makes your effort worthwhile!
Here's another powerful "hook." While it's quite obvious that our authors are both well-educated, experienced, and very accomplished, they choose to make their very valid points by providing real-life examples rather than their own opinions. They offer detailed case studies on how 10 very successful companies deal with their most challenging customers. Each of the case studies demonstrates a unique solution to relatively common customer service challenges. They interviewed front-line employees as well as leaders within each organization to discover how each has learned to deal with a variety of challenging circumstances in dealing with Gladys. This approach allows us, as readers, to learn from realistic successes and failures of real people in authentic circumstances.
To illustrate the diversity of the case studies, the authors chose a moving company, a self-help organization, an airline, a polyethylene piping product supplier, a spa, an eyeglass distributor, a medical center, a high-end guitar manufacturer, a residential building business, and a television production studio. That kind of diversity alone proves that you simply can't escape "Gladys" so you'd best focus on pleasing and transforming her!
The following "hooks" are frosting on the cake! The authors aren't about to let you forget their valuable content. At the end of each chapter, you'll find:
Practical Points … a multi-page review of the critical points outlined within the previous chapter.
Progress Checklist … a challenge to review those critical chapter points and rate yourself and/or organization on a scale from one to ten. After an honest appraisal, you'll have an accurate snapshot of what areas to recognize and reward and what areas need enhancement.
Lessons Learned … a list of critical questions as to how you can and will apply what you've learned from that chapter to your own daily situation. These questions are excellent for group discussions among your staff members.
Answers … after you have discussed the previous questions, the authors provide additional thoughts to ponder for each of the questions.
Who's Your Gladys? … a closing chapter statement that can lead to further discussion of the chapter content as well as providing food for thought before you move on.
Upon completion of this pleasant and strongly informative read, you're not going to walk away feeling as though you've been exposed to the typical customer service "fluff" which we're all so familiar with. You'll be armed with real-life, marketplace-tested, tips, tools, and strategies that will surely put a smile on the face of any Gladys you may have to deal with!
Harry K. Jones is a motivational speaker and consultant for AchieveMax®, Inc., a company of professional speakers who provide custom-designed seminars, keynote presentations, and consulting services. Harry's top requested topics include change management, customer service, creativity, employee retention, goal setting, leadership, stress management, teamwork, and time management. For more information on Harry's presentations, please call 800-886-2629 or fill out our contact form.